Cardale Jones, the third-string quarterback for the Ohio State Buckeyes, doesn't understand what the heck he's doing going to classes and having to learn things at college.
"Why should we have to go to class if we came here to play FOOTBALL, we ain't come to play SCHOOL classes are POINTLESS," he tweeted.
The tweet was quickly deleted but not before several blogs and media outlets caught it.
The one shown here came via RantSports.com: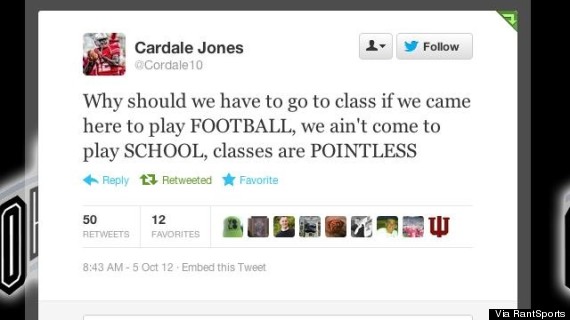 It appears the entire account has since either been made private or deleted.
We're sure Jones is not concerned with the fact that most public universities with major athletic programs are losing money and charging students thousands of dollars to help finance the multi-million dollar college football business. Ohio State would be the exception to the rule, but statements like that could have an effect on players at other universities.
Ohio State's football team has been in hot water before. In 2011, the team was sanctioned for preferential treatment and cash payments from a tattoo parlor going toward eight football players.
Then again, maybe we should cut Jones some slack. He is just a freshman.
BEFORE YOU GO
PHOTO GALLERY
Students Charged The Most For College Athletics