Every Halloween, a costume that inevitably incites outrage makes its way into stores. But the World War II Evacuee and "Anna Rexia" outfits are nothing compared to the soullessness of a James Holmes latex mask that was listed on eBay for $500.
EBay user "realface13" attempted to sell a very realistic-looking mask of the 24-year-old man who is accused of opening fire in a packed theater, killing 12 and wounding 58, in Aurora, Colo.
The listing, which was initially scheduled to expire a week from now, has been removed from the auction site, but not before Denver Westward caught wind of what is possibly the most offensive Halloween mask of all time.
According to the website, realface13 advertised the product as something to "SHOCK EVERYONE YOU KNOW," and asked potential buyers to, "imagine owning the mask of supposedly the most dangerous mass murderer in US history." The seller claims he acquired the mask, which was custom-designed for a private collector, by winning a high-stakes poker tournament in Europe.
The listing was quickly removed by eBay on Friday. A representative for the company told 9News.com the listing was taken down because it it did not comply with its policy barring offensive materials:
"Out of respect for victims of violent crimes, eBay does not allow listings that attempt to profit from human tragedy or suffering."
ABC News spoke with Josh Nolan, one of the injured victims of the theater shooting, who said he was outraged about the listing.
"That just took the cake right there. I'm too upset to think about it," he told the news outlet.
The Listing (via Denver Westward):
Halloween is only a month away. SHOCK EVERYONE YOU KNOW! He was referred to as "The Joker", "The Dark Knight Shooter," "The Ilama," "The Extraordinary Gifted" but his real name is JAMES HOLMES! There is nothing more scary than crawling into James Holmes mind and wearing his face. His "soul penetrating eyes" and "The Joker" orange hair makes this mask the most disturbing object you will ever own. Imagine owning the mask of supposedly the most dangerous mass murderer in US history. This is a high quality latex rubber mask which was custom designed for a private collector overseas. I won this mask playing high stakes poker tournament when I was in Europe. I guaranty you that this is the only mask in the world and it is practically priceless because it was used in the production of the most controversy documentary which will come out in 2013. This mask is sold as is and there are no returns. If you have 0 feedback and you are interested to bid on this item you have to contact me first. I will ship the mask immediately after I receive the payment. Good luck!
PHOTOS: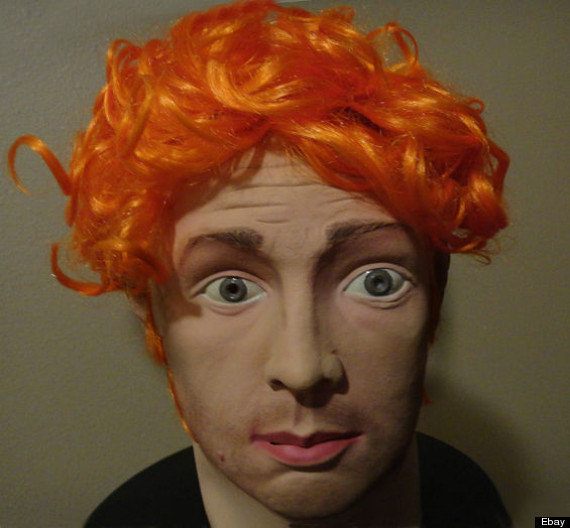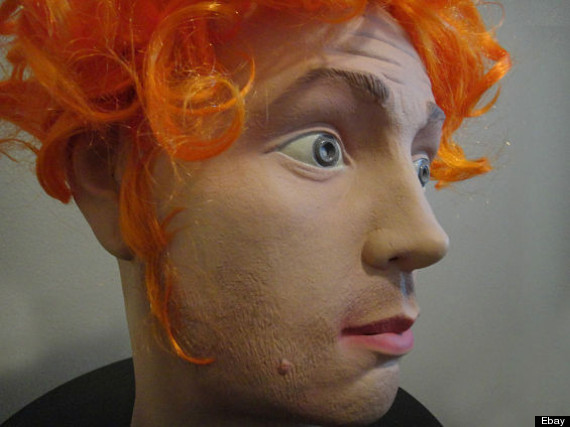 Also On HuffPost:
PHOTO GALLERY
The Most Inappropriate Halloween Costumes Of All Time
BEFORE YOU GO