 Tim Garvey, a Republican candidate for the Kansas House of Representatives, is saying that a bizarre Facebook post he wrote several weeks ago about race, President Barack Obama and the late conservative journalist Andrew Breitbart was his attempt to help end racism.
Garvey, a 25-year-old property owner/manager, told The Huffington Post that he wrote the rambling message on his personal Facebook account "when I was really mad." He said that he wants people to look beyond race and that he believes Obama is trying to force a racial divide on the country. In the post, he accused "Mr. Obama" of wanting to "f*** us over" and wrote that "there is no black or white ... we all bleed red."
This is a screenshot of Garvey's post, obtained by HuffPost.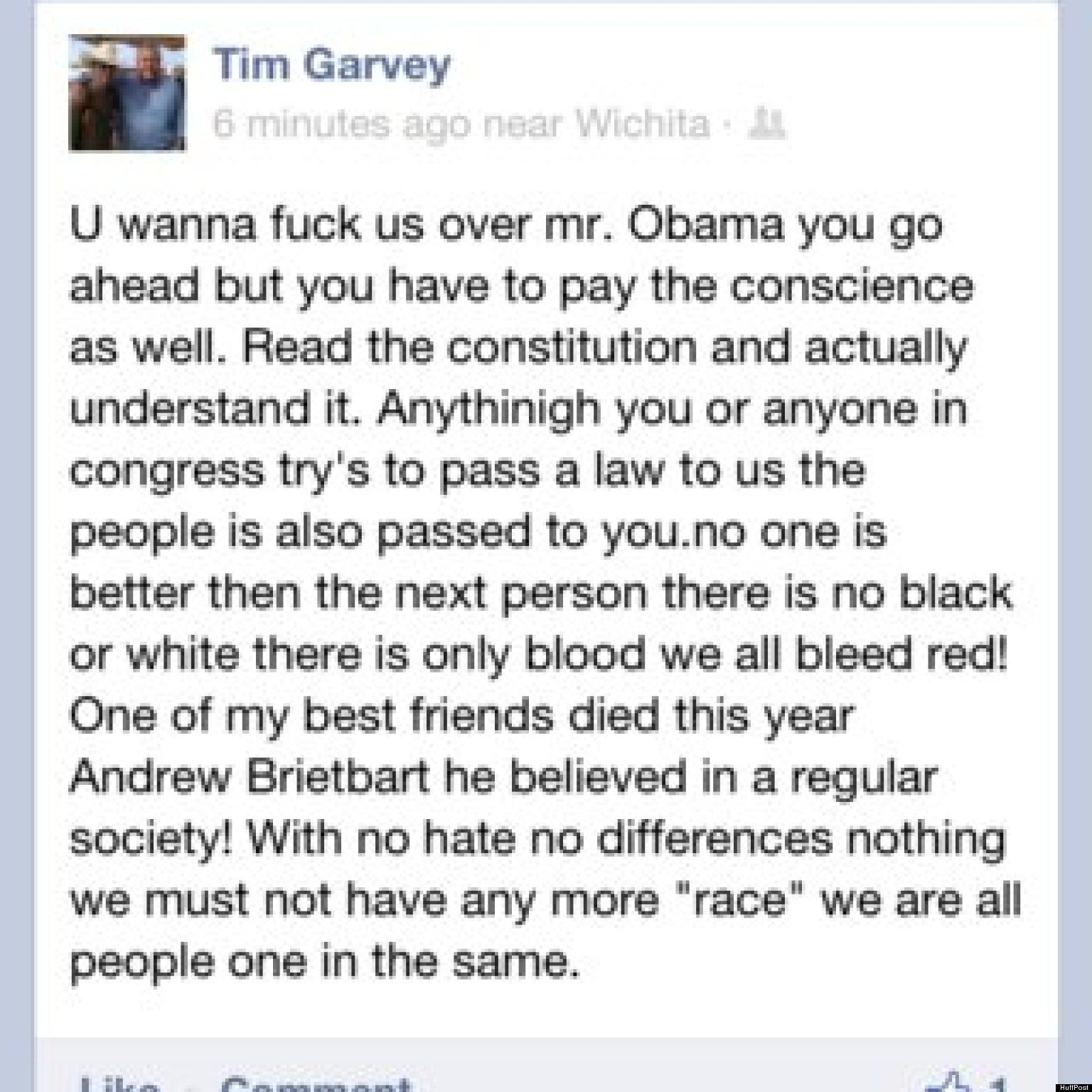 "It would have been better if I had left out the f-word," he said. "There should not be race. I have talked to people in the past who said that they voted for Barack Obama to show they're not racist."
At the time of his post, Garvey said, he was upset about Obamacare. "I was really fed up with people smearing the Constitution and spitting on the Founding Fathers' idea of how the country was founded," he said.
Garvey, who noted that he has black friends, said he does not see people through a racial lens and wants others to look beyond race. He said that one of his campaign volunteers is both a longtime friend and a black Democrat and that he does not play that up while campaigning.
He argued that some Americans are trying to ignite racial tensions for political purposes. He said "people get killed every day" and questioned the media's attention to Trayvon Martin's death in Florida. He linked the focus on Martin to Florida's status as a swing state in the presidential election.
"It is not the rest of the country's business," Garvey said of Martin's death. "Florida is a big state to get in a presidential year. Whatever happens is to distract us from the big picture."
Kansas Democratic Party spokesman Dakota Loomis took issue with Garvey's Facebook post, noting his use of "f***" and his "disrespect" in calling the president "Mr. Obama."
"It was immature and disrespectful and displays his inability to be a leader for Kansas," Loomis said.
Answering questions from the Kansas chapter of the Koch brothers' group Americans for Prosperity, Garvey said that he wants to limit the number of bills legislators can introduce, set page limits for bills, reduce taxes, abolish pensions for state legislators and switch to an elected state Supreme Court. He told HuffPost he believes that legislators should be limited to introducing seven bills each a year and that the Legislature should focus its time on reviewing established programs and previously passed laws every two years to see if they are still needed.
On his campaign Facebook page, Garvey highlights his signing of the Taxpayer Protection Pledge and his support for the Tea Party. He posted a link to a story about a man toting a gun who stopped a knife-wielding man in a Utah supermarket. On his website, he lists among his hobbies shooting, reading and going to church.
BEFORE YOU GO
PHOTO GALLERY
Obama Approval Rating