The Ohio Democratic Party has combined two major rivalries with a full-page newspaper ad attacking Republican presidential hopeful Mitt Romney for being a fan of the University of Michigan football team.
See an image of the ad below. (A digital version of the ad can be seen here.)
The ad was printed in Ohio State University's student newspaper The Lantern on Friday, according to a tipster who sent an image of the ad to BuzzFeed. The ad features a black and white photo of Romney overlaid with a quote from the presidential hopeful: "I have been a Michigan and a Wolverine fan for a long, long time."
Ohio's Democratic Party also hits Romney's Wolverine fandom on its website, criticizing Romney for loving "the Big House, Ann Arbor, and all things (except the auto-industry) in that state up North."
Ohio State and Michigan have had a heated football rivalry for decades, with ESPN once ranking the feud the top greatest sports rivalry. It's no surprise Romney is a supporter of the Wolverines -- he grew up in Michigan, and his father George was once governor of the state.
Below, the anti-Romney, anti-Michigan ad: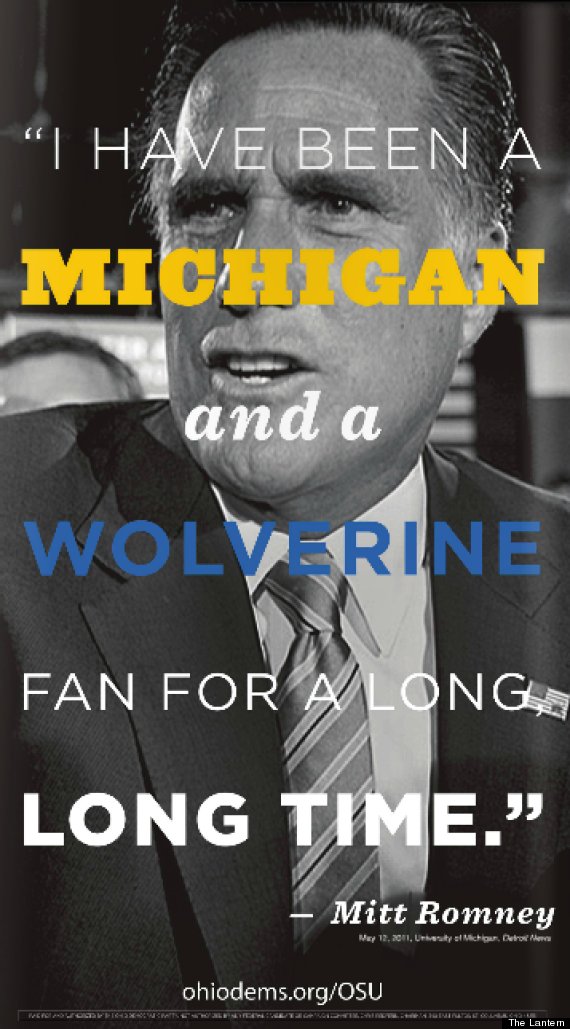 *************************
What's happening in your district? The Huffington Post wants to know about all the campaign ads, mailers, robocalls, candidate appearances and other interesting campaign news happening by you. Email any tips, videos, audio files or photos to openreporting@huffingtonpost.com.
BEFORE YOU GO
PHOTO GALLERY
Painfully Awkard Debate Moments