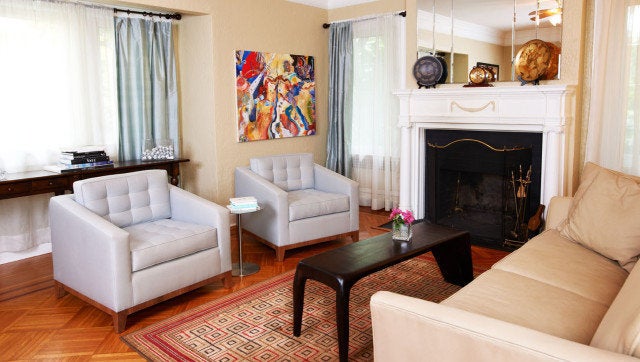 Celebrity interior designer Robin Wilson has made her mark by specializing in eco-friendly spaces with a focus on sustainable, non-toxic and recyclable materials. So naturally, when it was time to design a nursery in her own home for her newborn baby girl, she knew exactly where to turn for decor that was safe and beautiful. We were lucky to get a house tour as well as a peek into some of her other fabulous designs.
Wilson has been interested in green design since even before it had a name. As a child in Austin, Texas, she suffered from allergies, and is now an ambassador for the Asthma and Allergy Foundation of America, striving to find resources that are healthier for her and her clients. She says it's important to know what you are exposing yourself to at home, because this is "where you eat, sleep and live and will spend roughly one third of your life."
So for her baby's whimsical violet bedroom, Wilson used non-toxic materials from the floor to the ceiling, including low-VOC paint, Aura by Benjamin Moore. She created a fun checkerboard pattern with Flor carpet tiles, which are great for kids' spaces because they can easily be switched and replaced if one tile gets stained. And at the end of their life-cycle, the rubber-backed tiles can be shipped back to the manufacturer where they are recycled. She even chose a soy mattress for the crib as well as non-toxic and washable linens. Wilson also incorporated a family heirloom, her grandfather's rocking chair, as secondhand items bring richness to a space, and are a green alternative to new merchandise.
In addition to her eco initiatives, Wilson incorporates locally-sourced American products into her designs. "Every designer should endeavor to expose their clients to these companies so that they continue to employ Americans, maintain competitive prices, and offer aesthetically beautiful products." That's why she opted for baby furniture from Argington a women-owned business in Brooklyn, NY.
Click through the slideshow for a look inside Wilson's home, and a few other recent eco-conscious design projects.
PHOTO GALLERY
Robin Wilson Home