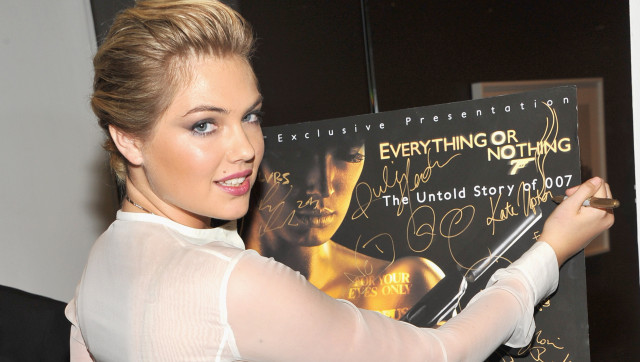 Being a Bond girl is no easy feat. You have to embody glamour, strength and feminine allure -- all while chasing the bad guys and flirting with your boss. So does Kate Upton thinks she's up to the challenge?
"It's a very prestigious title, and it would be a very cool role," she told the New York Post at the "Everything Or Nothing: The Untold Story Of 007" premiere. "I would need to go through some intense training to learn all the Bond Girl moves." That's your cue, Hollywood executives -- cast Kate and get her a trainer!
While we're not sure that the "Bond" producers are falling all over themselves to get her in their next movie, we think it wouldn't be such a bad career move for the 20-year-old model (especially since her controversial "nun-kini" bit in "The Three Stooges" movie was left on the cutting room floor). After all, Kate has been scoring some high-fashion gigs lately, so we can imagine her making her Hollywood debut in a sequel styled by Carine Roitfeld. A girl can dream, right?
And since Kate's favorite Bond girl, Halle Berry, began her career as a beauty queen, perhaps it's not such a crazy idea that the blonde bombshell will make the transition to acting herself. Do you think Kate Upton would make a good Bond girl?
Check out some shots of Kate Upton. Do you think she has what it takes to be a Bond girl?
PHOTO GALLERY
All Things Kate Upton
Want more? Be sure to check out HuffPost Style on Twitter, Facebook, Tumblr and Pinterest.