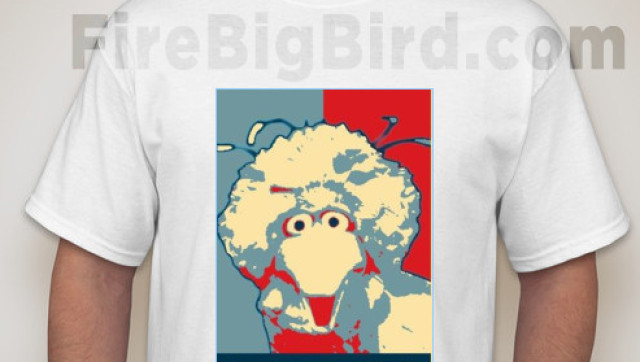 Two teens are on a mission to save Big Bird.
On the heels of Mitt Romney's statement last week during the presidential debate that he plans to pull the plug on Sesame Street by defunding its creator, PBS, two University of North Carolina freshmen snapped up the domain name, FireBigBird.com, and have started selling T-shirts through the site that slam Romney's comments, All Twitter reports.
One T-shirt on the site shows a down-and-out Big Bird holding a "Romney fired my ass" sign; another shows a photo of the character's face in Obama's iconic 2008 presidential campaign "Hope" poster. Both cost $20 each.
Romney's swipe at Sesame Street sparked social media outrage, generating 135,332 tweets per minute in its immediate aftermath last week, according to Twitter. "I'm going to stop the subsidy to PBS," Romney said Wednesday evening. "I like PBS. I love Big Bird," he added. "But I'm not going to -- I'm not going to keep on spending money on things to borrow money from China to pay for it."
As of Friday, the creators of FireBigBird, Taylor Robinette and Andrew Bauer, had sold around $6,000 worth of T-shirts, according to The Street.
Originally, the pair had intended to make the business a for-profit project, but they quickly adopted a nonprofit model in order to "take advantage of the spotlight to make a social impact by donating all profits to the Make a Wish Foundation," Bauer told the news site. "We hope our project will inspire social entrepreneurs across the country," he added.
"Social entrepreneurship" -- or the creation of for-profit enterprises that donate a portion or all of their revenue to charity -- is on the rise among young Americans. A recent survey released by the Kairos Society, an organization of college-aged entrepreneurs, found that "wealth" ranked in the top five motivators for only 5 percent of the surveyed Kairos members. In contrast, the number-one motivator for more than 10 percent of the respondents was the "desire to help others."
Such findings, in addition to stories like that of FireBigBird, suggest that it's not riches but social change propelling today's startup kids.
BEFORE YOU GO
PHOTO GALLERY
50 Comedians On Sesame Street