Some of us love summer. Some of us don't. For one intrepid summer-hater over at The Glut Life, bidding adieu to the season called for an uncommon celebration. Just to be clear, we are talking about a Sriracha ice cream sandwich. No, we are not kidding.
Now, you all know that we are pretty Sriracha obsessed around here. We care deeply for the stuff and are always eager to try it a new way. But even we never thought of these monsters. Behold, the chocolate peanut butter Sriracha cookie and Thai basil vanilla bean ice cream sandwich.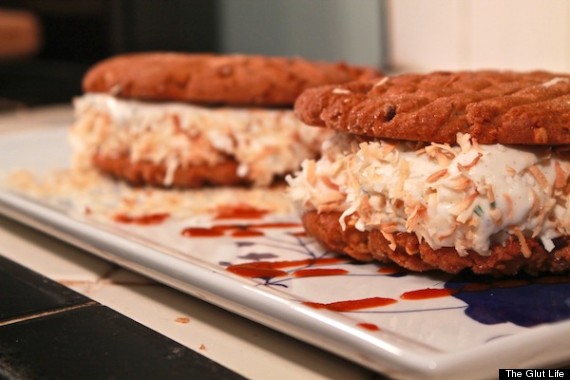 The mad genius behind this thing had the following to say about his creation:
We grew up in the city so we are only used to one kind. Black top & bottom with white insides. We wanted to step it up a notch. We made chocolate peanut butter Sriracha cookies and filled them with Thai basil vanilla bean ice cream. Hi haters!
Get the recipe and check out step-by-step photos over on The Glut Life.
Want to read more from HuffPost Taste? Follow us on Twitter, Facebook, Pinterest and Tumblr.
PHOTO GALLERY
27 Ways To Cook With Sriracha
BEFORE YOU GO