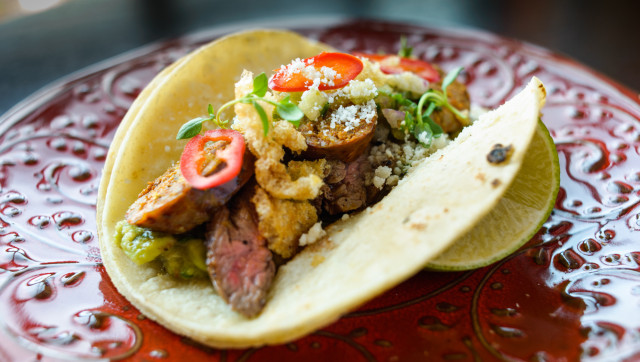 WASHINGTON -- While the concept of a bar hosting a pop-up restaurant is not a new one, when tacos are part of the deal, our ears perk up.
Taco Bamba, chef Victor Albisu's forthcoming taqueria project set to open in Falls Church later this fall, will be setting up shop at Black Jack, the bar upstairs from Pearl Dive Oyster Palace on 14th Street NW near Logan Circle on Monday nights, 7 p.m.-10 p.m., starting Oct. 29. The Monday special will conclude Dec. 17.
Here's what will be offered
:
Taco Bamba – Skirt Steak, Chorizo, Chicharones
Chipotle Portabella Taco – Grilled Corn, Cotija
Pork Panza Taco – Grilled Bacon, Pork Belly, Pineapple, Pickled Jalapeño
Duck Tinga Taco – Duck Leg, Crispy Skin, Charred Endive, Chipotle Crema
Surf and Turf Taco – Grilled Octopus, Sweetbreads, Charred Tomatillo Salsa
Crispy Kiss Taco – Pork Tongue, Beef Tongue, Scallions, Red Chili Aioli
Grilled Scallop and Grilled Guacamole Nachos
Black Oyster and Shrimp Campache
Spicy Grilled Bamba Wings
Wood Grilled Corn al Chili Limon
Before the regular Monday night taco fest kicks off, Black Jack will host a special Taco Bamba Party on Oct. 22. For the price of $40, you'll get your fill of food and specialty cocktails. Advance purchase is recommended.
"With Taco Bamba I will offer a style of food that I have not previously cooked professionally, but have been enjoying my whole life," Albisu said in a media advisory. "I can't wait to get back in the kitchen and this series at Black Jack helps me do that a little sooner. Tacos, beer and football at one of DC's hottest bars -- it doesn't get much better on a Monday night."
BEFORE YOU GO
PHOTO GALLERY
DC Bocce League At Black Jack