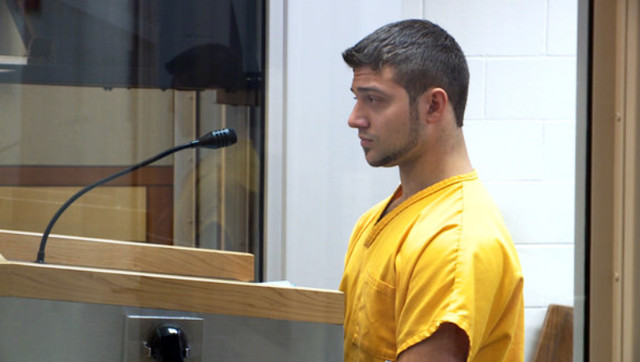 A high school football player and his brother have been arrested by authorities in Alaska for allegedly raping a drunken teenage boy with a beer bottle at a raucous underage drinking party.
Anthony Resetarits, 20, and Joseph Resetarits, 18, were charged Thursday with one felony count each of second-degree assault. The elder Resetarits is a commercial fisherman, according to his Facebook page. His younger brother is a Homer High School football player, police said.
According to a criminal complaint filed in Homer Superior Court by Alaska State Trooper Sgt. Jeremy Stone, authorities were notified about the incident on Sept. 10. A nurse at South Peninsula Hospital in Homer had contacted police after a juvenile patient informed her he had been sexually assaulted at a drinking party on Sept. 8, the complaint stated.
Stone interviewed the victim and others who were at the party, which was attended by more than 50 people, including members of the Homer High School football team. Stone learned the victim had arrived at the party at about 8 p.m. According to witnesses, he was drinking heavily and later passed out on a couch.
"Multiple juveniles that were interviewed reported that he was unconscious and not responsive to attempts to wake him," Stone wrote in his report.
According to police, the gathering continued uninterrupted and eventually several party-goers began taking turns writing and drawing on the passed out juvenile with a marker. At one point, Anthony Resetarits allegedly shaved an "M" into the victims' hair, a letter believed to symbolize "Mariners," which is the mascot for the Homer High School football team. Several witnesses at the party took photos and videos of the actions directed at the juvenile victim, police said.
"At some point after [the victim] had been written on and drawn on, the individuals surrounding him on the couch began to yell out ideas about what should happen next," Stone said. "While it's still unknown who made the suggestions, it was reported that someone suggested sticking a carrot in [the victim's] anus, and then someone suggested sticking a beer bottle inside of [the victim's] anus."
After someone removed the victims' pants and underwear, Anthony Resetarits allegedly took a 12 oz. Alaskan White beer bottle and inserted the full length of the neck of the bottle into the victim's anus. At least one juvenile male witnessed the assault, which was also captured on a camera.
"Several other juveniles stated they didn't see who initially had inserted the bottle but had seen ... Anthony Resetarits "tapping" and "pushing" on the bottle ... Another female juvenile stated she observed [Anthony] Resetarits "wind up" and hit the bottle, which caused it to go deeper into [the victims'] anus," Stone wrote in his report.
When the party ended, the victim, who was still unconscious, was loaded into a vehicle and taken to meet his mother.
Contacted by The Huffington Post, Alaska State Troopers spokeswoman Megan Peters said she was unable to comment on what, if any, injuries the juvenile victim sustained during the alleged sexual assault.
"I cannot give out any kind of medical details on the individual," Peters said. "I know we received a report of harm after the fact."
Authorities said they were able to recover photographs taken during the party, including pictures of the alleged sexual assault.
On Oct. 4, arrest warrants were issued for Anthony and Joseph Resetarits. Both men were taken into custody without incident that same day.
READ THE COURT DOCUMENTS: (Story Continues Below)
According to the Alaska Dispatch, Joseph Resetarits has been removed from the Homer Mariners football team. More than a dozen other student athletes who attended the party have been suspended for violating Alaska Student Activities Association rules prohibiting being at a party where alcohol is served.
Pegge Erkeneff, communications specialist for the Kenai Peninsula Borough School District, did not immediately respond to a request for comment from The Huffington Post.
On Oct. 6, KPBSD Superintendent Steve Atwater published an article on the district website about the alleged sexual assault. He called the incident "horrific" and recognized that it had caused a lot of "tension and frustration."
"The bad news is that the reasons for the poor behavior at the party are many and in the broader spectrum, beyond Homer," Atwater wrote. "The simple response to this incident is to blame the parents or school or both. The better response is for the community and school to continue to work together to ensure that the boundaries for our students do not so easily blur."
Anthony and Joseph Resetarits will appear in Homer Superior Court for a preliminary hearing on Oct. 25. If convicted, they could face a possible sentence of up to 15 years in prison. State police say the investigation is ongoing and additional charges may be filed once it is complete.
Photo courtesy KTUU.
BEFORE YOU GO
PHOTO GALLERY
Too Much To Drink?