They killed and buried their 17-month-old son behind their home, and then let their other two boys play atop his gruesome grave.
The chilling allegations against Heather Kowalczik and her boyfriend, Robert Rodriguez, led to their eviction in Long Island, N.Y., on Tuesday. Their landlords -- whose family has owned the property for decades -- pulled all of their belongings out of the house and piled them in the driveway, ABC News reports.
The landlords, Angela Lancia and her husband, Luigi, told the station that they'd had enough since young Justin Kowalczik's body was unearthed on Saturday.
"This is my family's property for 52 years, I rented it to what I thought was a nice couple, and they turned out to do this in my family's yard, it's pitiful what they did to that poor child, and then they made their other children play in that yard," Angela Lancia said. "Some people got no conscience."
Police say the infant was buried in the back yard in the summer of 2010. The boy's mother took cops to the 3-foot-deep burial site this weekend after a social worker confronted her about Justin's whereabouts. She claims that her live-in boyfriend -- but not the father -- had something to do with the child's death, and that he intimidated her into staying quiet.
PHOTO: Workers dig for Justin Kowalczik's body over the weekend (Story continues below)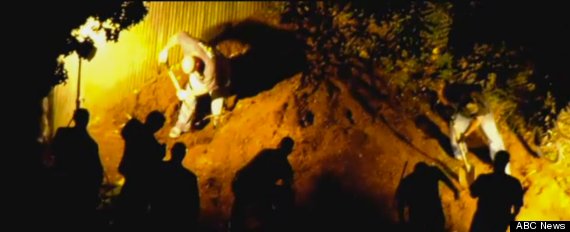 "I just broke down. I had to tell them what Robert did," Kowalczik, 29, told the New York Post. "He was pretty much keeping watch of me, he hit me in the head, smacked me in the face if I'd say anything."
Police took Rodriguez into custody Saturday but haven't yet announced any formal charges against him. The other children at the home -- Alex and Robert Jr., 6 and 9 -- were taken into child protective custody.
The investigation is ongoing.
BEFORE YOU GO
PHOTO GALLERY
Questionable Parenting