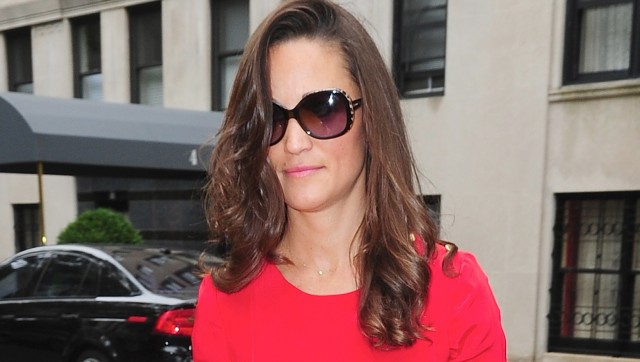 Despite finding herself in the middle of a few controversies, Pippa Middleton has done a pretty good job of maintaining an air of mystery. In fact, it took almost a year after the royal wedding for the world to actually hear her speak on camera. And it looks like we'll have to wait even longer to see the Duchess of Cambridge's little sis sit down for a formal television interview.
An unidentified source told the New York Daily News that, in light of Kate Middleton's recent topless (and bottomless) photos, Pippa will not be promoting her upcoming party-planning book Celebrate. Despite receiving many lucrative offers from top media giants like Oprah Winfrey, Ellen Degeneres and Anderson Cooper, Pips plans to stay mum to avoid any inappropriate questioning, the source reveals:
"If she were seen using the royal family to promote her book, she would soon be viewed as the next generation's Sarah Ferguson... If Pippa is quizzed about Kate's topless pictures, then whatever answer she gives will generate more news about the matter, and upset Will and Kate."
Clearly, Pippa has no intention of getting on Buckingham Palace's bad side. Since she hasn't spoken much, these interviews are a great opportunity for the 28-year-old to not only plug her book, but to establish herself as a prominent social figure stateside (which could be useful if the buzz about her moving to New York is true). Plus, skipping out on a formal book tour will cause her to lose out on an estimated revenue of $600,000, according to NYDN's "marketing experts." (And, if the rumor mill has any credence, who knows how much a television bidding war would land her?)
It's hard to tell whether or not Pippa is truly opting out of press engagements to protect her older sister, but Viking, the book's publisher, confirmed to NYDN that the new author will not be available for any interviews. Either way, we honestly can't blame her -- even a grimace or a polite refusal to talk about the photos could make the invasive snaps front page news again.
What do you think of Pippa Middleton's decision to opt out of a book tour? Do you think it has to do with her sister's recent scandal?
Click over to New York Daily News for more details.
Check out Pippa Middleton's style!
PHOTO GALLERY
Pippa Middleton's Style
Want more? Be sure to check out HuffPost Style on Twitter, Facebook, Tumblr, Pinterest and Instagram at @HuffPostStyle.