We don't have much in common with Katie Holmes (but what we would do for those cheekbones...). But we and Katie all had the same idea on Wednesday when we awoke to a very cold, very rainy New York City morning: comfort is key.
We at HuffPost Style chose to combat the chill with oversized sweaters, but Katie went bold with the ever controversial leggings-as-pants. The working mom was seen dropping lil' Suri off at her fancy new school, Avenues (read all about it here) this morning, with Suri looking cute as a button in her preppy uniform.
The six-year-old even wrote about it* on her blog, Suri's Burn Book:
I've got this school uniform thing under control. It's all about accessories, a good tailored fit, and non-drowsy Benadryl to keep your skin from rebelling against retail fabric.

Meanwhile, Katie thinks leggings are pants. Go figure.
Way harsh, Suri. It's a crappy day out and your mom's got to take you to class -- perhaps we can allow for some sartorial leeway?
A quick errand in the rain is, after all, one of the only moments in which leggings-as-pants are acceptable. Walking to work, on the other hand, is not. Pippa Middleton, take note.
Check out Katie's outfit below -- do you approve?
*While we'd love to pretend Suri pens her own Tumblr, the post was likely written by the very clever Allie Hagan.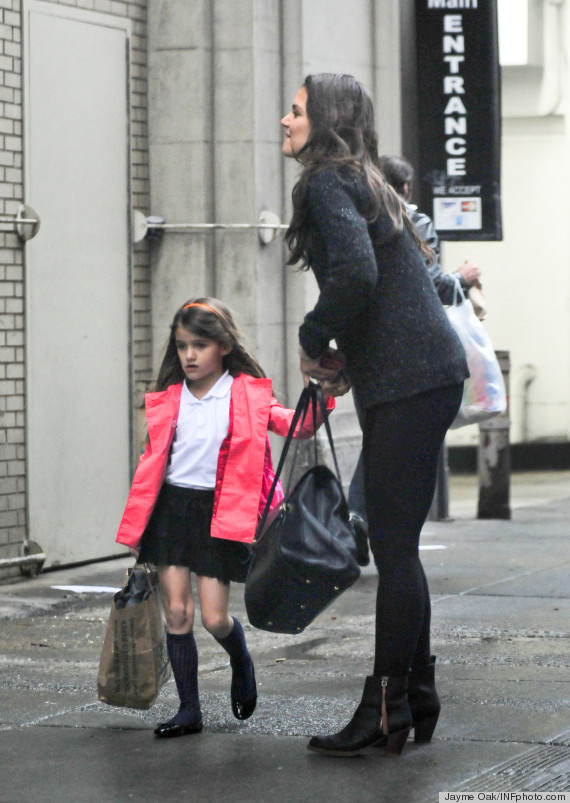 See more celebs who've worn leggings as pants:
PHOTO GALLERY
Leggings As Pants?!
Want more? Be sure to check out HuffPost Style on Twitter, Facebook, Tumblr, Pinterest and Instagram at @HuffPostStyle.