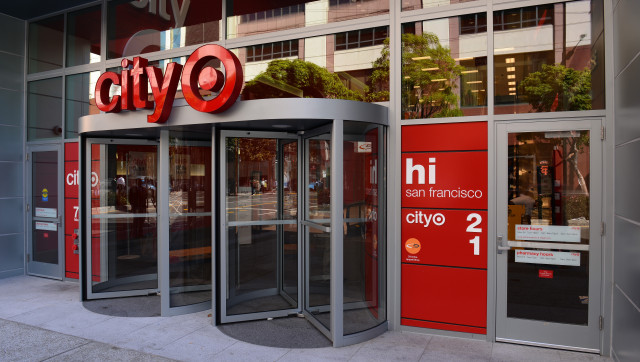 Ladies and gentlemen of the Fog City, your friendly neighborhood Target store has arrived.
Some of you are probably elated by the fact that you no longer have to bribe a friend to drive you over to Albany or down to Daly City to get your fix of, well, anything you could ever want. Others are undoubtedly grumpy by the red bulls-eyed capitalism that will forever make foot traffic more crowded on the corner of Fourth and Mission. A small handful of you (okay, maybe more than that) are simply rolling your eyes because, let's be honest, you've never seen the inside of a Target store and only obtain goods and services through your co-housing community's year-round gifting economy.
But love it or hate it, Target is here to stay, sweeping through the entire second floor of the Metreon and stocked wall-to-wall with remarkably affordable cleaning supplies and trendy clothes and stereo equipment and camping gear and greeting cards and silverware and plants and holy hell, did I really just spend $156 on throw blankets for my sofa?! (They were Shabby Chic, okay?)
The store opened its doors Wednesday morning, and its official grand opening will take place this Sunday. On Tuesday night, a select few were treated to a preview party of San Franciscanly-epic proportions, complete with Tacolicious snacks, Smitten ice cream and three full bars.
Target's official presence marks the end of a two-year, $30 million makeover of the Metreon, which also includes a sparkling new food court and refurbished AMC movie theater.
And even the cynics are cracking the smallest of smiles. San Francisco Chronicle columnist John King, who laments that the Metreon's "silvery shell" is "no match for a textured city" and that you can "only do so much with a box that shouldn't be there in the first place," conceded that the addition of Target might make the building "an integral part of downtown after all."
What do you think? Is the new retail powerhouse a welcome improvement in a city that historically shuns corporate franchises, or is it an unnecessary throne to everything evil in the world? Be sure to let us know in the comments, and in the meantime, take a look at some images of the new retail kingdom below.
PHOTO GALLERY
San Francisco City Target
BEFORE YOU GO