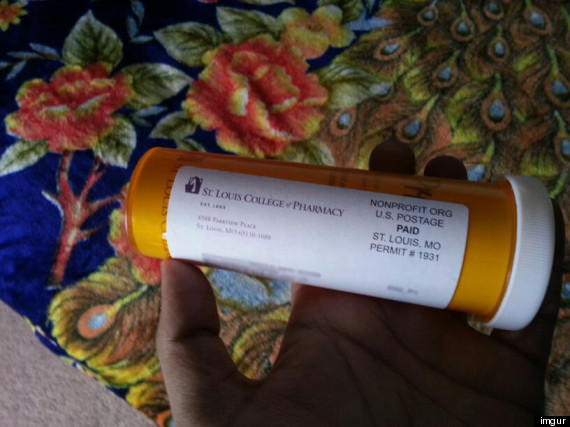 Now, it's totally possible that this is a prank, and St. Louis College of Pharmacy has been contacted for comment. But seriously, how much better than the old thick envelope/thin envelope schtick can this be?
Reddit user "erict15" posted a photo of a large pill bottle with a label from the Midwestern school, saying it contained his friend's acceptance letter. At least one other Redditor posted a photo of an unorthodox vessel sent by St. Louis College of Pharmacy, a plastic champagne bottle, which he said also contained an acceptance letter.
Update: Oct. 11 -- Brad Brown, public relations director at St. Louis College of Pharmacy, contacted The Huffington Post via e-mail and said that while the pill bottle did come from the school, it contains not an acceptance letter, but recruitment materials. It's the first step of the admissions process, rather than the last.
"We have been using them for at least the last 10 years with excellent results," Brown wrote. "The materials are sent across the country to high school students with high ACT scores and an interest in health care. If the student follows up, then we start a dialogue."
Previously:
How do they send out their rejection letters? We don't know.
Strangely, the practice of sending acceptance letters in things other than envelopes isn't restricted to St. Louis College of Pharmacy. Accepted MIT students apparently get their letters in silver cardboard tubes, which have been established as kind of a keepsake.
This year, Time reports, a note was included challenging incoming MIT students to "hack the tube" and submit results to the admissions department. This blog, fittingly called "Hack The Tubes," documents some of the more interesting results. One student even launched her tube in a weather balloon, sending it toward space with a camera and GPS trackers aboard.
BEFORE YOU GO
PHOTO GALLERY
Strange Majors