An intense fire broke out at a Wynwood warehouse with plenty of fuel for the flames.
City of Miami Fire Rescue responded to the blaze at the Art by God warehouse just east of North Miami Avenue at 60 NE 27th Street early Wednesday.
Neighbors told Local 10 they alerted authorities to report smoke rising from the roof of the facility around 6 a.m.
"The crews had to force their way inside. They were met by heavy, black smoke," said Fire Rescue spokesman Iggy Carroll.
CBS Miami reported the building had no windows and was protected by corrugated metal doors, impeding entry into the facility.
While crews entered from the ground, fire rescue perforated the roof to vent the smoke. Combustible paints and propane tanks exacerbated firefighting efforts.
Intense heat and smoke at the scene sent some of the 80 responders to area hospitals, though officials did not immediately confirm a number.
Though the blaze had been reduced considerably by late Wednesday night, firefighters were still on scene pouring water on the remaining fire.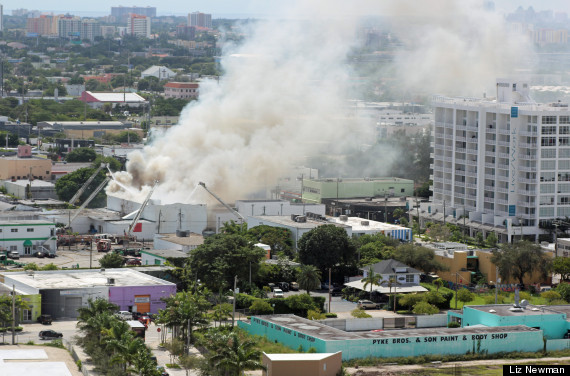 BEFORE YOU GO