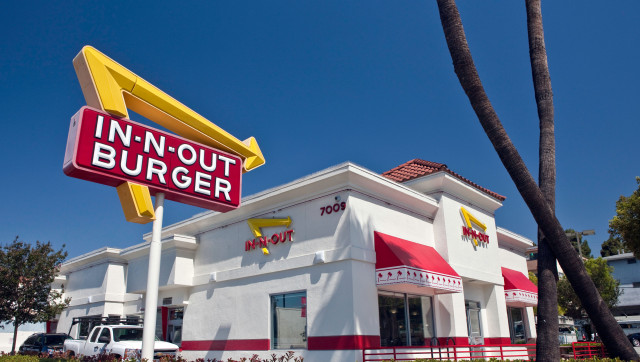 Southern California fast-food chain In-N-Out is distancing itself from the largest dairy farm in Idaho after footage of shocking animal abuse emerged Tuesday.
"The treatment of the dairy cows filmed at the Idaho dairy this summer is shocking and completely unacceptable," wrote COO Mark Taylor in a statement. "In-N-Out never has and never will condone such inhumane treatment of animals."
CLICK HERE OR SCROLL DOWN FOR UPDATES.
Taylor went on to describe In-N-Out's dairy supply chain, emphasizing that the restaurant is three steps removed from Bettencourt Dairies' Dry Creek Dairy in Hansen, Idaho where the abuse was uncovered.
In-N-Out buys cheese from a cheese supplier in Wisconsin, which gets their cheese from a bulk cheese manufacturer, which buys dairy product from numerous farms, including Bettencourt Dairies' Dry Creek Dairy, explained Taylor.
While In-N-Out has "no contractual relationship" with the farm in question, Taylor still promised that the franchise would take "appropriate action" if any part of their dairy supply chain is found to violate federal animal welfare regulations.
Luis Bettencourt, owner of the dairy farm, also distanced himself from the video. When the Idaho Agricultural Department showed Bettencourt the footage back in August, Bettencourt fired five employees who were seen in the video the next day, reports the Associated Press.
"We don't tolerate animal abuse. That's a big issue for us," Bettencourt said to AP. "I love my animals and I've been in the dairy business since I was a kid. Animal care is a number one issue in our facilities."
Three dairy employees who are accused of abusing cows all face misdemeanor animal cruelty.
WATCH: (warning: graphic video)
Kraft Foods, Wendy's and Burger King also get their dairy products from suppliers who use milk from Bettencourt Dairies' Dry Creek Dairy. But Mercy For Animals, the animal rights activist group whose hidden camera uncovered the alleged abuse, targeted Burger King in their campaign to expose the dairy industry's animal cruelty.
"Are your Burger King purchases funding horrific animal abuse?" asks Mercy For Animals on its "Burger King Cruelty" site. "A new Mercy For Animals investigation reveals sadistic animal abuse at a major Burger King dairy supplier in Idaho that has led to three workers being charged with cruelty to animals."
Representatives for Burger King and Wendy's did not respond to requests for comment by this story's publish time.
In-N-Out severed ties with a slaughterhouse in Central California last August when animal rights group Compassion Over Killing revealed hidden camera footage showing alleged inhumane treatment of cows. However, Taylor said In-N-Out chose to stop doing business with Central Valley Meat Co. because of a federal investigation into whether the slaughterhouse was sending sick cattle into the human food supply, reports AP.
UPDATE: Burger King has immediately suspended their use of dairy products from Bettencourt Dairies' Dry Creek Dairy in response to Mercy For Animals' video, saying that the company doesn't condone cruelty to animals.
Like In-N-Out, Burger King also emphasized that Bettencourt Dairies is just one of many farms in their dairy supply chain, calling it an "indirect supplier of a small percentage of cheese products."
However, Burger King took issue with Mercy For Animals' "Burger King Cruelty" campaign, calling it an "attack" that doesn't reflect the global fast food chain's efforts to improve animal welfare.

BEFORE YOU GO
PHOTO GALLERY
The Countries that Eat the Most and the Least Meat