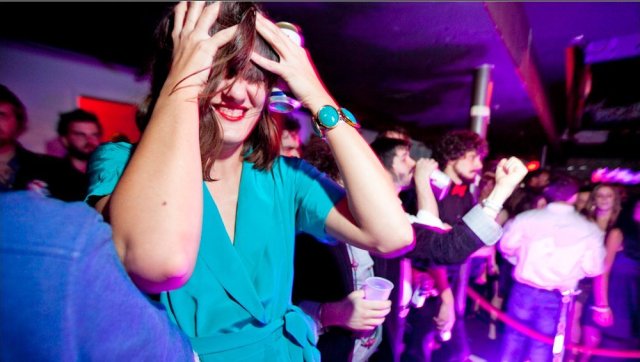 For this installment of The Huffington Post's "My D.C." Q&A series, we chatted with Brightest Young Things creator and "head coach" Svetlana Legetic.
Party promoter, party planner and party blogger, Brightest Young Things founder Svetlana Legetic has been working hard at making D.C. a fun place. With a New York Times-documented recent expansion to NYC, Legetic is now splitting her time between Brooklyn and D.C., where she continues to produce and grow BYT from the company's Shaw office.
BYT is up to lots of fun: This weekend will be BYT's first two-day party at the Embassy of France. Later in the month they'll be hosting their "Temple of Doom" themed Halloween party at The Sphinx Club in D.C. and Freakin Halloween at DREAM Downtown in NYC.
How about Legetic? We caught up with the self-described "phenomenally apolitical" Legetic to find out more about her life in D.C. and why people should stop complaining about Metro.
The Huffington Post: What do you do for a living?
Svetlana Legetic: Brightest Young Things.
HuffPost: Where do you live?
Legetic: Adams Morgan. In fact, I have lived here since the day I moved to D.C.
HuffPost: What's your commute like?
Legetic: Our office is on 9th and N so I have 3 options: walk, 35 min, which is pretty nice if the weather is nice, take the Green/Yellow line from U Street to Mt. Vernon or bike if the tire is not flat, which it seems like it constantly is these days. I have never driven a car in my life so walking and public transportation [are] a must.
HuffPost: What's your favorite local spot to take out-of-town visitors?
Legetic: Sightseeing wise, I like to show off the awesome museum courtyards: the Kogod at the American Art/National Portrait Gallery and the National Building Museum one, also good for picnics, as well as, well, everything else. For food and drinks, I'm a big fan of Tabard Inn and/or any combination of Little Serrow/Jaleo/Rasika , bars that make people say "Oh, this is sort of unexpected for D.C." like American Ice or Jack Rose or Room 11 or 1905, and walking all over tends to be pretty popular too. Oh, also the brunch at the Kennedy Center roof terrace, pure visitor gold.
HuffPost: What's your position on D.C. statehood?
Legetic: I am phenomenally apolitical.
HuffPost: What's your favorite local neighborhood?
Legetic: Hmmm, hard. I like my neighborhood during the work week. I also like Capitol Hill on a weekend. I also like seeing Shaw stepping their game up more and more.
HuffPost: What's your favorite local restaurant?
Legetic: Hmmm, also hard. I probably would say it is a toss up between anything Johnny Monis touches (KOMI/Little Serrow) and all the other amazing places I eat at and love eating at twenty-four seven. I legitimately eat all the time.
HuffPost: Should D.C. lift its height restrictions on buildings?
Legetic: No. I personally think this is one of the main things that makes D.C. as lovely and livable as it is.
HuffPost: What do people in D.C. complain about too much?
Legetic: The Metro. I have been here for nine years and had to use it to get to and from work for better part of it and I think I have only really gotten so exasperated by it that I felt the need to complain maybe half a dozen times. So, it cannot possibly be that horrible, right? Plus you guys, things could be always worse, dirty, no AC, confusing, smelling of hot pee at all times, permanently packed....
HuffPost: What local issue should D.C.-area residents pay more attention to?
Legetic: Homelessness.
BEFORE YOU GO
PHOTO GALLERY
French Underground