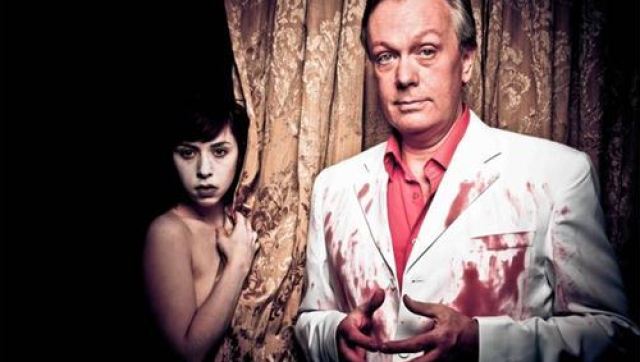 TOP 5 FOR THURSDAY, OCTOBER 11
EVERYDAY IS HALLOWEEN PICK
1. "Play Dead" At AFI Silver Spring
The Spooky Movie Film Fest continues with a screening of "Play Dead," a film version of Teller (of Penn & Teller) and Coney Island showman Todd Robbins off-Broadway show. Following the screening will be a Q and A with the director, Teller and Robbins. 7:30 p.m., 17+ unless a parent or guardian is present, $11.50
2. A Discussion On Live Performance And Contemporary Art At Corcoran
The five artists that made up the Take It To The Bridge series will discuss their art. We're interested in what new bride, seven-times over, Kathryn Cornelius has to say. 7 p.m., all ages, no cover
3. Calexico At 9:30
If this group wasn't so popular they'd be considered world music. 7 p.m., all ages, $20
4. Watch The Vice Presidential Debate At Tortilla Coast
Tip well. One of the wait staff may become vice president someday. 9 p.m., all ages, no cover
5. Follow @realDonaldTrump On Twitter
He'll be live tweeting the V.P. debate. The most fun you'll have on the Internet all week.
PHOTO GALLERY
Spooky Movie International Horror Film Festival
TOP 5 FOR THE NEXT 5 DAYS
Friday, October 12
"American Teacher" at AFI Silver Spring
Part of the DC Labor FilmFest, this 2011 documentary explored the lives of some of the 3.2 million American teachers. When the film was released Huffington Post blogger Michael Giltz said, "You'll watch it and want to call your favorite teacher from grade school and thank them all over again."
Saturday, October 13
Super! Art! Fight! at Red Palace
A competitive art competition in a rock club.
Sunday, October 14
This Land is Your Land: Woody Guthrie at 100 at Kennedy Center
An all-star lineup featuring Arlo Guthrie, John Mellencamp, Jackson Browne, Ani DiFraco, Tom Morello, Rosane Cash, Lucinda Williams, Donovan, Old Crow Medicine Show and seemingly everyone that plays an acoustic guitar and has a gold record.
Monday, October 15
EatWell DC
To celebrate the start of Growing Healthy Schools Week, EatWell DC restaurants will donate 15 percent of all purchases made between 4 p.m. and 10 p.m.
Tuesday, October 16
GZA at Howard Theatre
The Wu-Tang member will perform his classic album, "Liquid Swords" in its entirety.
PHOTO GALLERY
Save The Date