You can watch the vice presidential debate between Joe Biden and Paul Ryan streaming live from Kentucky with the video above, courtesy of YouTube.
CLICK OVER TO HUFFPOST LIVE for live conversation on a range of topics as the debate takes place.
Don't like the experiences above? You have many others options for livestreaming the debate, including AOL (parent company of HuffPost), Yahoo and USTREAM. You can also watch the debate live on television on NBC, CBS, ABC, CNN, Fox News, MSNBC and other channels.
Another place to keep an eye on tonight is Twitter. Don't miss our list of 100 must-follow Twitter feeds during the VP debate and Twitter's #Debates page.
We'll be live blogging the debate here. For your convenience, you can also find that embedded below (scroll down).
PHOTO GALLERY
Vice Presidential Debate
10/12/2012 1:08 AM EDT
Paul Ryan Employs Same 'Failure To Lead' Gambit He Uses Against Obama
Paul Ryan and Mitt Romney have now both dodged questions about their tax plans by saying in essence they would copy a strategy that they describe as "failing to lead" when President Barack Obama has done it -- leaving details to Congress.
In Thursday night's debate, Ryan did it in refusing to disclose the tax loopholes that he and Romney say they would close to "broaden" the tax base and pay for a tax cut estimated to cost at least $5 trillion. They assert that by closing those loopholes, their tax cut would be entirely paid for.
But neither man has suggested a single loophole, such as the mortgage deduction or deductions for charitable giving, that they would close.
Instead, they want Congress to make those choices.
"We want to work with Congress -- we want to work with the Congress on how best to achieve this," Ryan said.
"We said here's the framework, let's work together to fill in the details," he said at another point. "That's how you get things done. You work with Congress."
But when Obama has offered broad outlines and asked Congress to fill in the details, Republicans -- and some Democrats -- accused him of a failing to lead.
Ryan did so later in the debate.
"Leaders run to fix problems. President Obama has not even put a credible plan on the table in any of his four years to deal with this debt crisis," Ryan said. "I passed two budgets to deal with this. Mitt Romney's put ideas on the table.
"The president likes to say he has a plan," Ryan said. "He gave a speech. We asked his budget office, 'Can we see the plan?' They sent us to the press secretary. He gave us a copy of the speech."
"You see, that's what we get in this administration -- speeches -- but we're not getting leadership," he added.
He did not note that he thought it was okay when he and Romney only have a plan.
-- Michael McAuliff
10/11/2012 11:36 PM EDT
No Clear Debate Winner in Two Polls
A CNN instant survey of Americans who watched the debate found Paul Ryan eking out a slight victory, 48 percent to 44 percent, but that was well within the survey's margin of error.
Fifty-five percent of CNN respondents said that Vice President Joe Biden performed better than they expected in the debate, 26 percent said he did worse, and 18 percent said he did the same as they expected. Ryan likewise impressed, with 51 percent saying he performed better, 19 percent worse, and 28 percent said he performed the same.
An earlier CBS News online panel poll of uncommitted voters found that 50 percent thought Biden won, 31 percent that Ryan won, and 19 percent that the debate was a tie.
-- Emily Swanson
10/11/2012 11:34 PM EDT
Mitch McConnell: 'Joe Is Pretty Passionate'
Some conservatives were outraged at Vice President Joe Biden's smirks and snickers during the debate. Senate Minority Leader Mitch McConnell (R-Ky.) didn't go quite so far, despite questioning from the obviously perturbed Sean Hannity on Fox News.
Hannity asked McConnell to talk about Ryan's demeanor, calling it "calm" and "smart." McConnell said the American people would probably agree.
"I think they'd like a vice president who is under control, you know?" McConnell said.
Does that mean he thinks Biden isn't?
"Joe is pretty passionate," McConnell said. "Sometimes he can harness it in. Sometimes, he can't."
-- Elise Foley
10/11/2012 11:23 PM EDT
Obama Watches Debate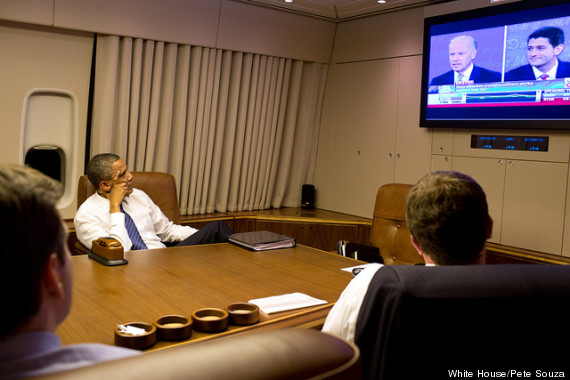 Photo: Pete Souza/White House
10/11/2012 11:15 PM EDT
Ryan Repeats Overstated Claim About People Losing Health Insurance Under Obamacare
Like Mitt Romney during his debate with President Barack Obama last week, Paul Ryan charged during Thursday's debate that health care reform would cause 20 million people to lose their health insurance.
"Look at all the string of broken promises. 'If you like you health care plan, you can keep it.' Try telling that to the 20 million who are projected to lose their health insurance if Obamacare goes through," Ryan said.
Ryan and Romney both base their claim on a selective reading of a Congressional Budget Office report that predicts the law will extend health insurance coverage to 30 million people. Along the way, 3 million to 5 million people are projected to move from the job-based health benefts they have today to some other form of coverage, such as private health insurance sold on the law's "exchanges" or Medicaid.
The CBO report included alternative calculations that ranged from predicting that Obamacare would actually increase enrollment in job-based health insurance by 3 million, to estimating that 20 million people would lose those benefits, which is the figure Ryan and Romney cherry-picked.
Ryan was on solid ground accusing Obama of breaking his campaign promise to reduce every family's health insurance premiums by $2,500 a year. In fact, health insurance premiums continue to rise as they have for years, though the rate of increase has slowed. Health care spending growth overall also has slowed. But since the biggest parts of Obama's law don't take effect until 2014, it's probably had little effect on spending or premiums either way to date.
Ryan also said 7.4 million senior citizens would lose the coverage they currently have on private health insurance plans through the Medicare Advantage program because the health care law cuts its funding. While Ryan accurately cited the projections of Medicare's independent actuary, the number of people on Medicare Advantage plans has increased since the law and health insurance companies have said they don't expect this line of business to collapse.
- Jeffrey Young
10/11/2012 11:12 PM EDT
Cain: Biden Stopped 'The Bleeding'
@ THEHermanCain :

Biden did the job of "stopping the bleeding'. He went in with strategy to emerge with 'a draw'. He succeeded. #TCOT
10/11/2012 11:12 PM EDT
Ryan's Hometown Unemployment Rate Decreasing
Early in the debate, Paul Ryan slammed Joe Biden over the unemployment rate in Scranton, Pa. -- the vice president's hometown.
"Joe and I are from similar towns. He's from Scranton, Pennsylvania. I'm from Janesville, Wisconsin. You know what the unemployment rate in Scranton is today?" Ryan said. "It's 10 percent."
The attack line would have been more effective if Ryan's hometown had been facing its own increasing unemployment under President Barack Obama. But Ryan's hometown of Janesville has seen a declining unemployment rate, according to the Bureau of Labor Statistics. While not every month has seen a drop, in June, Janesville's rate stood at 9.4 percent. In August, it had fallen to 8.6 percent. That's down from a high of 13.9 percent in March 2009.
-- Jason Cherkis
10/11/2012 11:11 PM EDT
Cain Weighs In
@ THEHermanCain :

There were no winners. This debate was not a debate. Tt was a Distraction. #Biden used interruption as tactic to suppress Ryan's substance.
10/11/2012 11:11 PM EDT
Debate Transcript
Click here for a full transcript of tonight's debate.
10/11/2012 11:09 PM EDT
Obama Praises Biden's Performance
Stepping down from Air Force One, President Barack Obama praised his vice president's performance in the debate.
"I'm going to make a special point of saying that I thought Joe Biden was terrific tonight. I could not be prouder of him. I thought he made a very strong case. I really think that his passion for making sure that the economy grows for the middle class came through. So I'm very proud of him," he said, according to the White House pool report.
Obama added that he talked Biden after the debate.
--Luke Johnson
BEFORE YOU GO