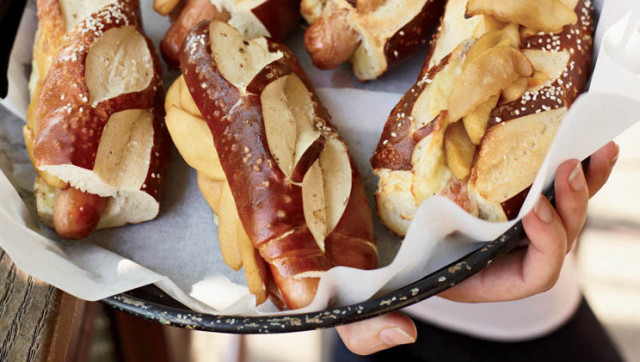 Hot dogs are no longer equated to the cheap eats on the sidewalks of New York where you can get a dirty-water dog with the change in your pocket. This all-American food has undergone a culinary revitalization resulting in cheddar cheese dogs, truffle butter dogs and even cognac-soaked hot dogs. (And the price has definitely spiked as a result.)
We're not suggesting that you whip out your most expensive caviar next time you make a hot dog at home, but with a little cheddar cheese and some sauteed apples, your cheese hot dog dinner will taste like one of those $100 dogs that are breaking world Guinness records.
Get the Hot Dogs with Cheddar and Sautéed Apples recipe
Want to read more from HuffPost Taste? Follow us on Twitter, Facebook, Pinterest and Tumblr.
For more hot dog ideas, check out these recipes.
PHOTO GALLERY
Hot Dog Toppings
BEFORE YOU GO