Liam Hemsworth has a new tattoo -- and like his fiancee Miley Cyrus, it's a quote from a famous speech by former president Theodore Roosevelt.
The 22-year-old actor showed off his new ink in a photograph posted on Instagram this week that shows both his and Cyrus' tattoos: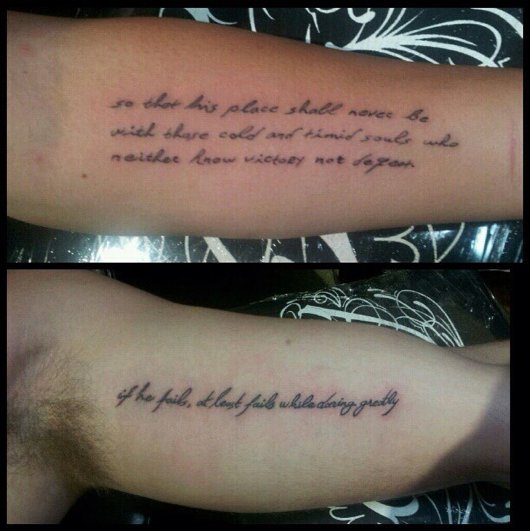 (Credit: Instagram/Liam Hemsworth)
In script that matches Cyrus', [Hemsworth's] stamp says, "If he fails, at least fails while daring greatly" -- the line immediately preceding the one Cyrus picked from that iconic oration, in which Roosevelt urged his listeners to live life to the fullest.
As Access Hollywood notes, however, Hemsworth's tattoo appears to be missing the word 'he,' when compared to the original passage.
"It is not the critic who counts: not the man who points out how the strong man stumbles or where the doer of deeds could have done better," Roosevelt told a crowd in France in 1910.
"The credit belongs to the man who is actually in the arena, whose face is marred by dust and sweat and blood, who strives valiantly, who errs and comes up short again and again, because there is no effort without error or shortcoming, but who knows the great enthusiasms, the great devotions, who spends himself for a worthy cause; who, at the best, knows, in the end, the triumph of high achievement, and who, at the worst, if he fails, at least he fails while daring greatly, so that his place shall never be with those cold and timid souls who knew neither victory nor defeat," the speech continued.
The popular Twitter fan account @LiamHemsworths tweeted this photo on Friday that shows the Australian actor posing with the tattoo artist who gave him the new ink:
Liam Hemsworth New Tattoo, New Picture :) twitter.com/LiamHemsworths…

— Liam Hemsworth (@LiamHemsworths) October 13, 2012
Cyrus, who is said to now have 15 tattoos, had the quote from Roosevelt's speech tattooed onto her arm in July, the Hollywood Gossip writes.
To see some of the 19-year-old's other tattoos, click through this slideshow:
PHOTO GALLERY
Miley's Tattoos
BEFORE YOU GO