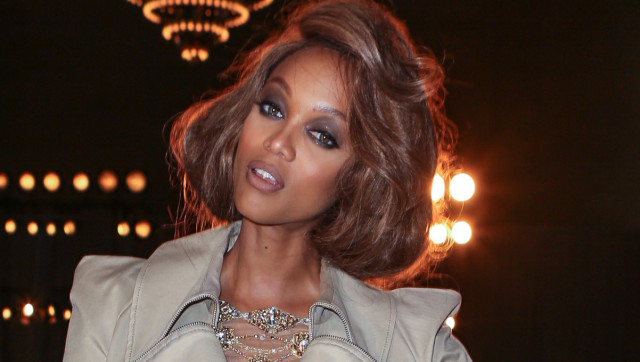 Even though Tyra Banks was bullied in her teenage years, the supermodel has ensured that she'll be the one having the last laugh with her upcoming television series "Fivehead."
The awkward teen-turned-model-turned-television mogul has just sold the scripted show based on her life to ABC, Deadline.com reports. "Fivehead" will cover her experience as a high schooler with low self-esteem prior to becoming one of the most successful models in the biz -- not such a bad way to show up former bullies, huh?
For those of you not up on your schoolyard lingo, the term "fivehead" refers to people with a relatively large forehead, so the title of the show is a playful nod to Tyra's teenage insecurity. "In high school, if you have glasses, you're a 'four eyes', if you have braces, you're a 'metal mouth' but if you had my forehead? You're a 'fivehead,'" Tyra explained to Deadline.com.
The 38-year-old model has reportedly enlisted the help of television writer and childhood friend Kenya Barris to co-create, executive produce and write the show (they'll both be creating the characters and storyline together though). He also co-created "America's Next Top Model" (now in it's 19th and totally revamped season), so we suspect he was a shoe-in for his new role.
"To be able to witness her career was wild, but to be able to watch Tyra grow up was nothing short of nutty," Kenya said. "I am blown away by the opportunity to tell not just a great story but a story that I remember so fondly."
Tyra has no problem talking about her not-so-glamorous past or even poking fun at her own so-called "muffin top," so the world is definitely accustomed to seeing the model unguarded and in self-deprecating mode. But will you be interested in watching an entire series about her life before she reached superstardom? Or are you sick of the whole "I was bullied but now I'm a hot model" narrative?
See more successful models who were bullied! They're just like us... well, sort of.
PHOTO GALLERY
Models Who Were Bullied
Want more? Be sure to check out HuffPost Style on Twitter, Facebook, Tumblr, Pinterest and Instagram at @HuffPostStyle.