We're very excited to syndicate one of our favorite columns, 'What Is It? What Is It Worth?' from one of our favorite magazines, Country Living. All text and images below are provided by Country Living. Get ready to be surprised!
"This item, stamped "Leland" at the bottom, stood out among the other housewares at my local thrift store and cost just $1.95. Did I get a real steal?" - J.C., West Linn, Oregon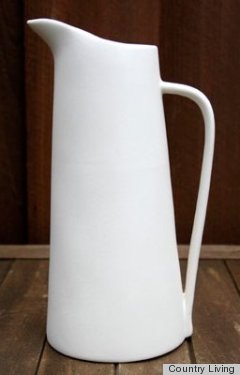 1953 Ceramic Pitcher
Our antiques specialist, Helaine Fendelman, appraises your finds and collectibles.
The find was crafted by sculptor and ceramist Malcolm Leland, and appears in a 1953 catalog of his work. Though not a household name, Leland won a Good Design honor from the Museum of Modern Art (for his gourd-shaped birdhouse) in 1955—the same year he closed his company to pursue other projects, including work for a larger pottery studio. Pieces issued under his own label are hard to come by, especially oft-used household items like this pitcher. They're also considered very desirable by a dedicated group of collectors, who'd likely pay $1,000 to $2,000 for this piece, which cost $1.95.
What It's Worth: $1,500
Also check out on CountryLiving.com:
Pumpkin Decorating & Carving Contest