Somewhere between the glossed-up pomp of a Kanye West music video and the forceful virtuoso of a Géricault painting we get the hyper-saturated images of Gérard Rancinan.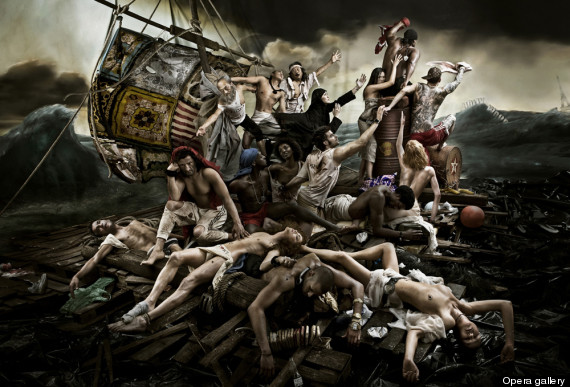 Attempting to decipher the content of Rancinan's dense photographs would likely take an afternoon. In his latest exhibition at Opera Gallery in New York, there are heavy-handed symbols by the dozen: we see Marilyn Monroe as a heroin addict, a burqa-clad Lady Liberty, cops making out, Judith with the head of Mickey Mouse and riot protesters clamoring to the top of pile of bodies. Yet rather than using individual pop cultural triggers to tell a story, Rancinan injects them into your vision stream all at once, creating a dizzying and exhilarating image overdose.
Heavier topics like war, sex and religion are jumbled up with Disney characters, nude women and boozed-up banquets, placing no barrier between high and low, dark and light. Rancinan's photographs act as magnets for played-out historical narratives, literary cliches and pop-culture hot topics. Yet the trigger images are all a tease; hunting for a deeper meaning will only lead you back to the beginning. Instead, Rancinan serves up an all-you-can-eat buffet of images, supplying everything you desire right there on the surface.
See a slideshow of the work below and let us know your thoughts in the comments section.
PHOTO GALLERY
Gerard Rancinan
Check out Rancinan's exhibition at the Opera Gallery in New York until October 31, 2012.
BEFORE YOU GO