From the Blue period to the Rose period, Pablo Picasso is often praised for his vibrant use of color, bringing his angular landscapes and neoclassical nudes to the forefront of 20th century art making. But a recent exhibit at The Guggenheim Museum in New York City is looking past the Surrealist's exploration of the spectrum and instead focusing on his monochromatic masterpieces, in an exhibit titled "Picasso Black and White."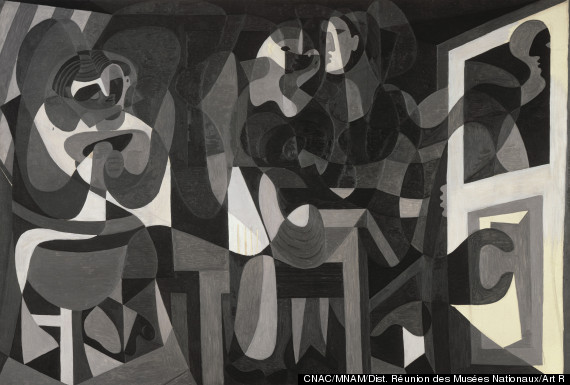 The Milliner's Workshop (Atelier de la modiste), Paris, January 1926, Oil on canvas, 172 x 256 cm, Musée national d'art moderne/Centre de création industrielle, Centre Pompidou, Paris, Gift of the artist, 1947, ©2012 Estate of Pablo Picasso/Artists Rights Society (ARS), New York, Photo: CNAC/MNAM/Dist. Réunion des Musées Nationaux/Art Resource, NY
Spanning the years 1904 and 1971, the exhibit features 118 paintings and sculptures rendered only in black, white and gray, including some of his most iconic works like "Reclining Nude" (1942) and "The Maids of Honor (Las Meninas, after Velázquez)" (1957). Purged of vibrant colors, the works starkly emphasis the artist's obsession with line and form and the unique primal visions he opted to incorporate during this period.
The selection of works harken back to Picasso's major influencers -- El Greco, Diego Velazquez, and Francisco de Goya; the Spanish predecessors whose minimalist color palettes inspired Picasso's black and white pieces. But the list of male figures reminded us of the oft overlooked influence of the numerous women who also played a key role in the development of Picasso's style. Who could forget fellow artist and well-known muse, Francoise Gilot, whose relationship with Picasso sparked paintings like "The Charnel House"? Though Picasso is frequently credited for taking an active role in the artistic output of Gilot, the ten year relationship between the two painters no doubt involved mutual moments of inspiration.
To highlight the relationship between the art partners, we challenge you readers to a game of "Picasso or Gilot?" Scroll down to the slideshow below; we dare you to distinguish between the two artists monochromatic artworks. Take the quiz and let us know what you think of "Picasso Black and White" in the comments section below.
All images of Picasso's work were provided by The Guggenheim Museum (see credits) and all images of Gilot's work were provided by the F. Gilot Archives.
BEFORE YOU GO