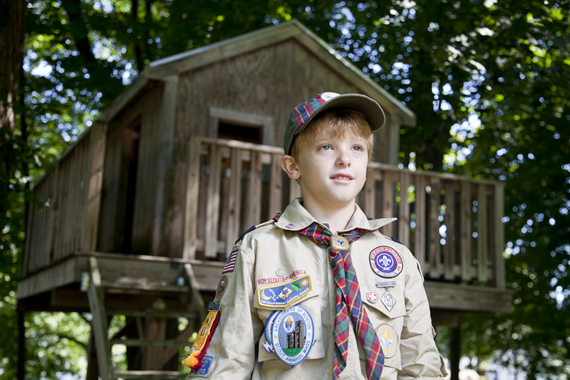 (Photo by Ken Richardson)
Robert Wolniewicz was an expert of sorts on tornadoes. He'd studied their destructive power and prepared an emergency kit for his own family. So last spring when 10-year-old Wolniewicz — who earned a Cub Scout pin for his work on tornadoes — learned about the plight of a baby girl who had lost everything to a twister, he sprung into action.
Fifteen-month-old Angel Babcock was initially found alive in a field in New Pekin, Ind., after a tornado had destroyed her home and killed her parents, little brother and her two-month old sister on March 2, 2012. The baby clung to life for two days until she died that Sunday, and was buried with her family in a pauper's field. While the baby was still fighting for her life that weekend, Wolniewicz was determined to help her in any way he could after hearing of her survival on the news.
"I was thinking… I wanted to give her a gift, and money, and I wanted to let her know that I care for her," he says.
The fact that this little girl had lost everything — her home, her belongings, her family — struck Wolniewicz. He had been displaced from his own home for six months in January of 2010 and lost all of his possessions. In this respect, he was able to empathize.

"I kind of felt it… I halfway felt it," he says, conscientious of the fact that he was lucky to have his family and a home to go back to, eventually.
Away from Home
Catherine and David Wolniewicz had lived in Danvers, Mass., all their lives — they were even neighbors. Today, the parents of four volunteer extensively in their community and for the various groups and sports teams that fill up their kids' schedules. The close-knit family managed to keep it all together when an oil leak in their basement forced them from their home for months. Looking back, the oil spill itself was the least of their problems — its consequences — medically and monetarily, were what hit the Wolniewiczs the hardest.

Catherine and David discovered oil leaking under the floorboards of their basement after a routine oil replacement and cleaning of their unit. To make sure their house was habitable, the company came in and doused their home in chemicals. The kids were ushered to their aunt's house, but David stayed behind to oversee the workers. One month later, he was in the hospital with chemical pneumonia — his lungs had collapsed.
"I wasn't sure he was going to make it," says Catherine, recalling with derision the workers who assured David it was safe to stay around the house while
they worked.
"I found out they weren't telling me the truth. I had air quality tests done and they came back imminent hazard for occupational [spaces], and we were residential so that was even worse," she says.
David is now disabled with both cognitive and nerve damage.
When their house was thoroughly emptied of the toxins, the Wolniewiczs came back to a shell of a home they used to know. All of their belongings were gone.
"I had to throw away all their toys and things like that," Catherine says. "Everything had to be dumped. Furniture, beds, toys everything."
Helping Angel
When Robert Wolniewicz discovered what had happened to one little girl in Indiana, he remembered his own loss and was inspired to help.
"Knowing, being in a position to know what it's like to be out of your home, I think that that's kind of what inspired him," his mom says. "I mean he's lucky, he didn't lose his parents and he got back to his home. But there are so many people that don't, and he knows that."
Catherine recalls the first thing he said after the news report. "'I want to raise money for her because she lost everything. I want to get her a toy,'" he had said.
"In his mind," says Catherine, "he wanted to get her a toy because he knew 'that's what I lost.'"
He went to church that Sunday, informing his priest about his idea, and by the time he came back, the fifth grader had plans for starting his own organization, which he named Helping Angel. Angel Babcock passed away that very night in a hospital in Kentucky.
"We had to tell him the baby had passed away, and it was hard," Catherine says. "And then he said, 'well I still want to raise money for other kids. So that it's in her name.'"
Robert in Action
The fifth grader, who is on his school's basketball, football and lacrosse teams, took initiative to raise money. His father helped him make a website, HelpingAngel.org, and his mother helped him draft a letter to his school's principal to get the other students to donate to the cause. He placed an old coffee can in the teacher's lounge for donations and had a table at an open house, raffling off donated tickets to the Globe Trotters. Strangers donated directly to the website, much to his parents' surprise.
"Of all the kids," says his mom of her children, "he's got a really caring heart. He's in tune with how people feel."
Helping Angel is hoping to be sponsored by a national store like Walmart or Home Depot, but the organization needs to pick itself up off the ground before trying for sponsorship. Robert has raised $700 so far, and he hopes to reach $1,000 in order to donate the money directly a family in need.
"Five hundred dollars would go a long way for a family in an immediate tragedy, if they need to get a hotel room or that kind of stuff," Catherine says. "Whatever comes out of it, hopefully he can help families."
The organization is also trying to find Angel's grandparents, to tell them about Helping Angel and "to say this [Helping Angel] is in honor of this baby and to have their blessing," Catherine says. "It would be nice to make that connection."
This story originally appeared in Huffington, in the iTunes App store.