A 5'0'' basketball-playing grandmother has become "China's Internet darling" after her moving story made headlines earlier this month, Time magazine reports.
Zhu Shumei, 76, has been playing basketball every day for the past 20 years. According to Chinese newspaper Hangzhou Daily, the superfit granny can frequently also be seen running laps and doing strength training by climbing a pole.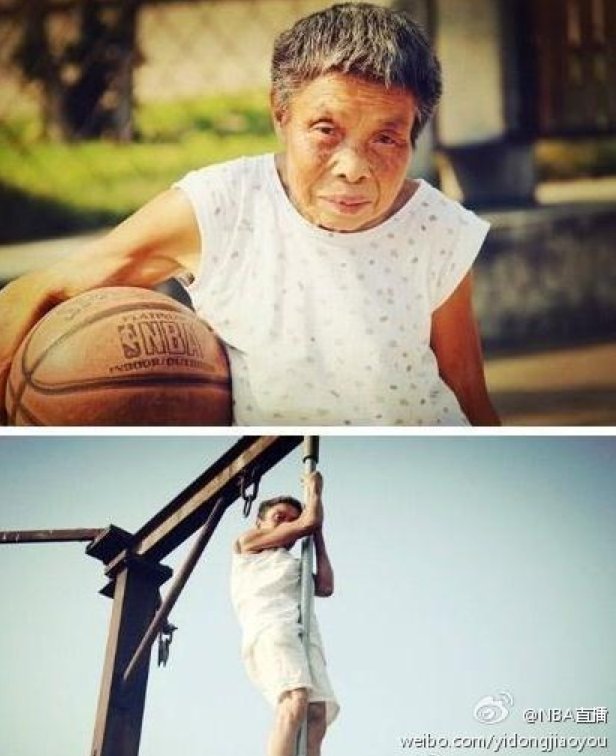 (Credit: Weibo)
The 'Basketball Grandma,' as she's been dubbed, does her daily exercise on the campus of Zhejiang Normal University in Zhejiang province.
However, though Zhu has been a "perennial" presence on the university's basketball courts, it wasn't until very recently that her heartbreaking story caught the world's attention.
She was just part of the crowd until recently, when student Song Huating was impressed by her solid form on the court. Upon approaching Zhu, Song discovered the hardships faced by the single mother of three and decided to turn a camera on the woman. What Song and her friends found was some steely resolve and a pure love of the game.

Zhu Shumei's husband divorced her when she was 54, leaving her sole custody of their mentally challenged daughter. To escape the demanding life of a caregiver, she picked up a basketball and began shooting at the university's courts, first borrowing students' balls while they were resting between games and then investing in her own. Twenty years on, a $80 real-leather basketball is her proudest possession. She cares for it meticulously, washing it daily before she takes to the court.
According to the magazine, Zhu and her daughter have been living off their subsistence allowances since the septuagenarian lost her job at the university's library following her divorce. Combined, their monthly allowances total less than $70, which "equates to just one-third of their home province's minimum wage."
When Song and her friends heard about Zhu's financial plight, they became determined to help the sprightly grandma, writes Hangzhou Daily. They learned that Zhu would be eligible to receive a monthly pension of $175 if she was able to first shell out a down payment of approximately $5,000 that would qualify her for the social security pension scheme.
So, earlier this month, the students published an open letter on the microblogging site, Sina Weibo, in which they relayed Zhu's story. They also set up a fundraising account which aimed to raise enough money to cover the down payment.
As Time magazine notes, that sum was "easily" and quickly reached.
However, according to Chinese news website Sina, Zhu was initially reluctant to "borrow" this money from the throngs of well-wishers -- many of them college students -- who had come forward to lend their support.
"They're all students, who are still relying on their parents' money. How could I possibly allow them to donate money to me... [Besides] I don't even know who they are, so I don't know how I will pay everyone back," she said, according to a HuffPost translation.
Sina writes that since Zhu's story made headlines earlier this month, the 'Basketball Grandma' has been extremely busy.
Zhu says that other than taking care of her daughter and doing the shopping and cooking for her household, she's also been doing several interviews every day. Moreover, she says, crowds of well-wishers now come to the basketball courts to see her play.
But all this attention, she says, is throwing off her game.
"A lot of people..come from really far away just to see me shoot a basketball. Not every shot goes in [and] the pressure is really very great," she said, adding that she hopes her performance is up to standard so that no one who comes to see her will be disappointed.
Based on the outpouring of admiration she's been receiving, however, that seems highly unlikely.
For more of the 'Basketball Grandma,' click through this slideshow of photographs:
PHOTO GALLERY
China's 'Basketball Grandma'
BEFORE YOU GO