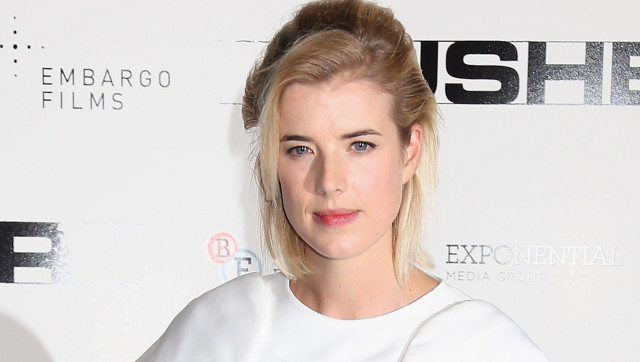 UPDATE: Agyness Deyn has clarified her previous statements, claiming that she hasn't quit modeling altogether. "It's really funny that it's all around saying I'm retired," she told The Daily Beast. "Someone asked me if I'd stopped modeling. And I said, 'Well, I actually haven't modeled in a long time -- so I suppose at the moment I have.'" According to The Daily Beast, Agyness "indeed plans to continue modeling in the future."
It's a sad day in the modeling world yet again. Following in the footsteps of Rosie Huntington-Whiteley and Lily Cole, Agyness Deyn has ventured away from the industry that propelled her to fame.
"I suppose I have stopped modeling officially," she told The Independent, announcing that she's decided to leave the fashion industry to pursue acting full time. The 29-year-old Brit got her feet wet on the big screen in "Clash Of The Titans" in 2010, but she also hit the London stage before landing her breakout role as a heroin-addicted stripper in this month's "Pusher."
But don't think the former face of Doc Martens isn't grateful for her cover girl past. Agy says that her 10 years as a model helped her realize what she wanted to do:
"I enjoyed modeling. Oh god, I loved it. Being 18 years old, from Manchester, and suddenly having this new world to explore – being able to travel, meet all these different people, and immerse myself in all these different cultures – was just so much fun... I think it was about four years ago when my feelings were changing towards the industry. I didn't hate it, but I was yearning to do something different. I was on a gradient. It was a gradual thing."
Before landing on acting, Ms. Deyn dabbled in the music industry, singing a duet with Five O'Clock Heroes back in 2008. But this is the first "official" announcement of the recently-married star's plans to leave the modeling industry entirely. Perhaps her new actor husband Giovanni Ribisi has already been a big influence on her?
At least Agyness seems pretty down-to-earth about the transition: "I want to work hard, and I don't expect to be given anything because I've had success in a different field," she said. "I'm doing this just like everybody else. I just want to keep on working and creating." Good for you, Agy! We'll miss seeing you in glossy magazines, but we'll be looking out for you on the big screen.
Are you going to miss Agyness Deyn's modeling days? What do you think of all of these serious models-turned-actresses?
Click over to The Independent to read more about Agyness Deyn's new career path.
To bid the former model adieu from the fashion world, check out her best style moments!
PHOTO GALLERY
Agyness Deyn
Want more? Be sure to check out HuffPost Style on Twitter, Facebook, Tumblr, Pinterest and Instagram at @HuffPostStyle.