Just after we finished doing the happy dance when we heard "Iron Chef" is returning to Japanese television on October 26 -- with no Bobby Flay in sight, no less -- we realized that the original chairman, our beloved Takeshi Kaga, was not returning to the program's most recent incarnation.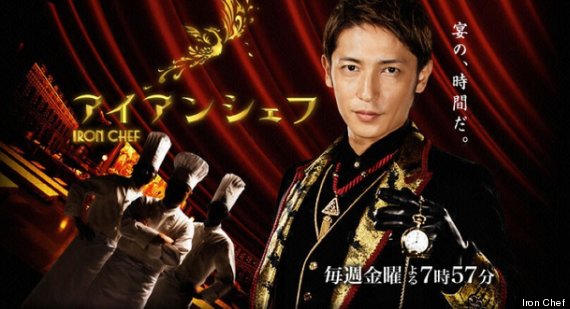 In his place, actor and singer Hiroshi Tamaki will be the first chairman in 13 years. No sign yet if Tamaki will be chomping into something during the show's opening like Kaga (a yellow bell pepper) or the American version's Mark Dacascos (an apple). We certainly hope he does.
Kotaku tells us that the show's basic structure will be the same as the original, although the public's reactions to Tamaki hasn't been overly positive:
Online in Japan, the attitude towards this assembled cast seems mixed, with some calling this group "questionable". Many are saying that Tamaki is simply too young and too handsome for the chairman gig. What's more, he doesn't seem to be much of a gourmet food lover! Kaga was such a larger than life, over the top figure that he could really sell the show—and biting bell peppers. He's like an anime character brought to life.
The public has spoken! Bite into something, Tamaki!
BEFORE YOU GO
PHOTO GALLERY
8 Of Our Favorite TV Restaurants, Cafes And Bars