By Alyssa Coppelman
The Pottstown Mercury, a local Pennsylvania newspaper, has come up with a simple but effective way to use social networking to fight crime. A few months ago, Brandie Kessler, a reporter for the Mercury, set up a Pinterest board called Wanted by Police. It consists of a continuously updated roster of mug shots of wanted individuals in the Pottstown area along with a description of the crimes they are charged with. Within a few short months, tips generated through the board have led to a dramatic increase in the apprehension of suspects in this borough outside Philadelphia.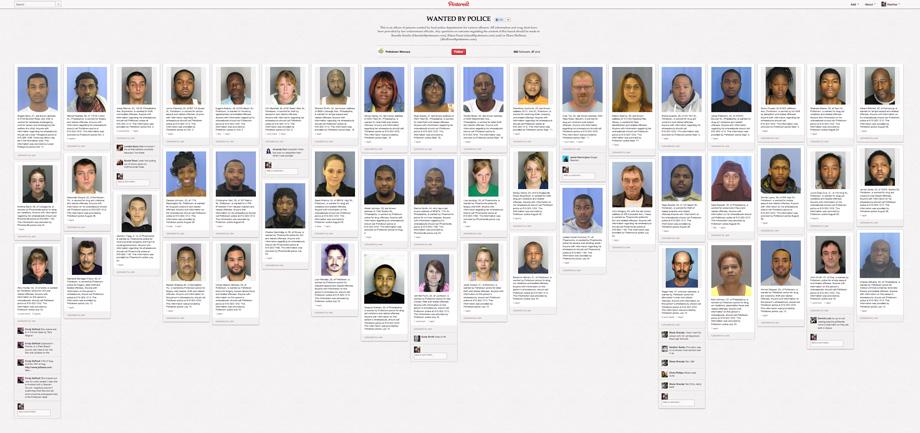 Kessler wrote in September that local police estimate a 58 percent increase in the number of arrests since the Pinterest site went up in June. (It's worth noting that this is a borough of just 22,000 people, so a few arrests could make a huge difference. But still, that is an impressive number.) Kessler says she had previously created a slideshow of people with warrants out for their arrest on the newspaper's website, but because it didn't operate smoothly and was difficult to share on Facebook and Twitter, it wasn't nearly as popular. As of Monday night, Wanted by Police had 881 followers on a board featuring 59 mug shots.
The comments run the gamut. Some are personal: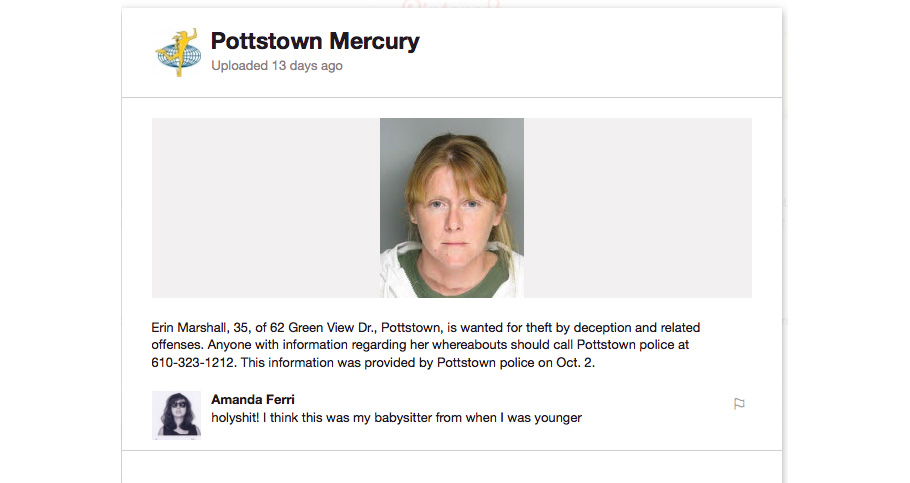 Others are more straightforward: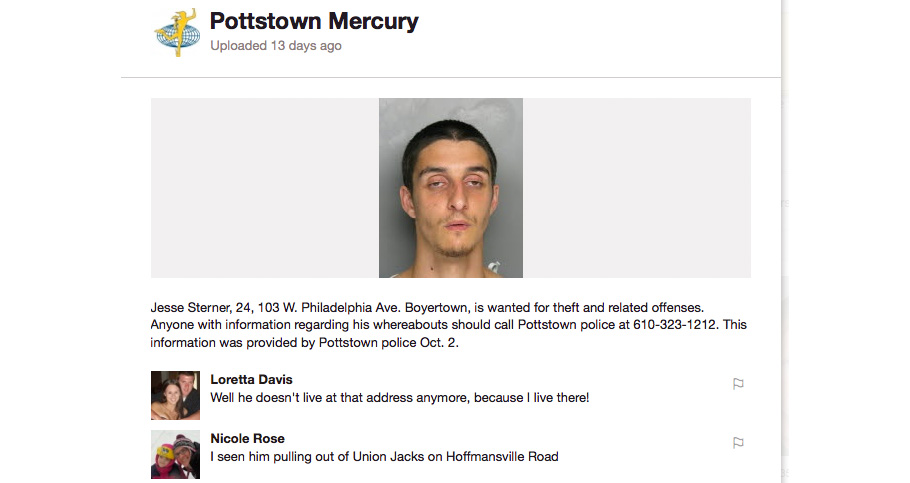 Many lead nowhere, but a precious few have helped with arrests. Police cited the case of a woman facing burglary charges, who had eluded them for months. Once she went up on the board, neighbors posted her whereabouts whenever they saw her, ultimately resulting in her arrest.
This is the Internet so naturally not all Pinterest interactions are useful or appropriate for crime-fighting. One user calls a red-haired man "Ginger Neuman" (sic) in what is possibly a Seinfeld-inspired insult. An attractive woman facing arrest gathers "likes." Of course, anyone can set up a Pinterest page, so it's also possible that one of those pictured could use the forum to throw the police off their trail by giving false tips.
Successul crime-fighting aside, there is something captivating about this board, even if you've never set foot in Pottstown. Unlike the one-dimensional mug-shot wall at a police station, this constantly updating outlet hints at complicated personal histories (real and commenter-imagined). These varied individuals face a wide array of charges—forgery, theft, prescription fraud. Some may be guilty. Others are surely innocent. We are only offered a tiny slice of their story, but a neighbor's decision to repin that slice may alter where it goes next. And if you do end up in Pottstown, just remember: Be careful what you do because at least 881 residents are watching.