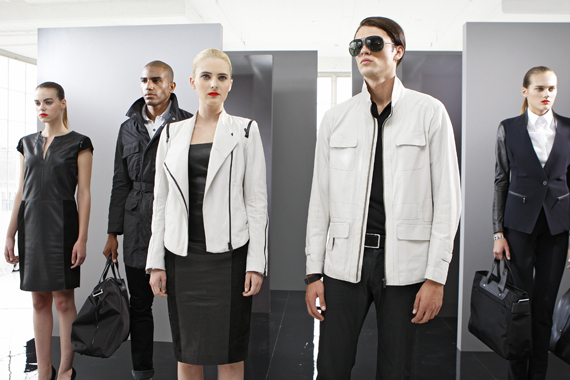 (Photo courtesy of Porsche Design)
A HIGH FASHION collection of Bauhaus-inspired clothing may not be the first phrase you think of when you imagine Porsche Design. But Porsche Design probably isn't what you think it is, either.
The brand, which has always stood for a sort of engineered luxury, designing high-end watches and sunglasses lauded as much for their aesthetic as for their instrumental design, actually has very little—apart from its founder—to do with the car company that shares its name. And now it's making a push toward becoming a player in the fashion industry, thanks to newly-installed creative director Thomas Steinbruck, a 46-year-old German designer who began his career at Christian Dior and who joined the company last year from luxury design house Elie Saab.
arning credibility in the fashion world is difficult even without an association with a sports car brand. Many luxury auto companies offer apparel as a branding extension (think: logo-emblazoned Ferrari hats) but none is taken seriously as a real fashion player (or particularly able to avoid a "Eurotrash" connotation). Porsche itself has a "Driver's Selection" collection of branded apparel for its auto enthusiasts, but Porsche Design—founded in 1972 by Ferdinand Alexander Porsche, designer of the Porsche 911 and grandson of the Porsche founder—is something else entirely.
"What attracted me was the challenge to take a design brand with DNA in the automobile industry that then became an industrial design brand and make it a lifestyle brand," Steinbruck told Huffington. "To start something from scratch, creating fashion where there is no history of fashion, injecting the DNA of the brand into something completely new."
And it's promising. For his first collection, presented during New York Fashion Week before some of the industry's leading editors, Steinbruck drew from Bauhaus—the minimalist German design school emphasizing both form and function—updated with modern touches for what he calls "Neo-Bauhaus." The architecturally-constructed collection includes a shift dress made of RawTec, an innovative leather fabric; a mens sports blazer with rubberized zippers more commonly associated with athletic wear; and the brand's signature car coats for both men and women, all presented in blacks, greys and dunes, a tonal take on the Bauhaus color block.
"I'm always looking for new and innovative materials," Steinbruck said. "We played the leather like a fabric, and treated it like any other material rather than being afraid of it because it's leather."
But it doesn't come cheap. The leather dress, for instance, will retail for upwards of $2,300, with the car coats coming in at just under $1,300. Polo shirts sell for around $200, and the collection's most expensive piece—a detailed men's leather field jacket—is priced at more than $2,500.
The company recently opened its biggest retail store yet—a 4,500 square-foot boutique in New York's fashionable Soho district—and plans a major retail expansion, with eyes toward opening hundreds of retail stores worldwide. Women's shoes and handbags are next, and Steinbruck aims to present the brand's first runway show at New York Fashion Week next year.
"We want to make this brand a key player in the luxury industry for men and women," he said. "You have a lot of fashion brands but you don't have a real lifestyle brand out of Germany. We are the only brand in the market, and we see ourselves as the only German luxury lifestyle brand."
Steinbruck's job now is to make fashion editors, buyers and customers see that as well.