Food Informants is a week-in-the-life series profiling fascinating people in the food world. We hope it will give you a first-hand look at the many different corners of the food industry. Know someone who would make a great Food Informant? Tell us why.
David Venable is the host of the popular QVC program "In The Kitchen With David" which airs every Wednesday at 9pm and Sundays at noon. David Venable joined QVC as a program host in 1993 and has since helped establish and build the multimedia retailer's gourmet food business. Venable also serves as a primary host for other QVC programming.
Prior to joining QVC, Venable was an anchor/reporter for WOAY — TV in Oak Hill, W. Va., and CBS-affiliate WTAJ — TV in Altoona, Pa., where he hosted its weekly public affairs talk show "Action Newsmakers." He also hosted the Children's Miracle Network telethon for four years. Venable earned his bachelor's degree in radio, television and motion pictures from the University of North Carolina, Chapel Hill, N.C.
He just released his debut cookbook which has been flying off the shelves.
Read more about David's busy week as he promotes his cookbook and continues to appear on QVC.
Monday, October 1
10:00am: Arrived in Manhattan earlier this morning and I'm now at the CBS Broadcast Center to shoot a promo with Anderson Cooper for Anderson Live. This is a quick visit...I'll be appearing on Anderson's show later this month with my brand-new cookbook, In the Kitchen with David: Comfort Foods That Take You Home.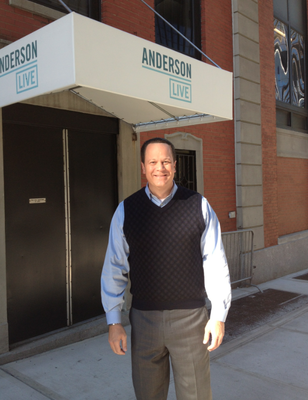 11:30am: I'm having lunch with colleagues at The Landmarc in the Time Warner Center. DELICIOUS! I just had homemade French onion soup. A chicken sandwich with Gruyere cheese is on its way.
2:00pm: I'm meeting with the team from a very popular national daytime talk show -- stay tuned!
4:00pm: The meeting went well. Now I'm in the car on my way back to Philadelphia, answering calls and emails. I look forward to relaxing tonight -- it's been a big day! I think I'll make roast turkey for dinner.
Tuesday, October 2
8:00am: I slept in a bit because Tuesdays are typically my off-air days. So, I'm starting out today with some Peet's French Roast Coffee and instant grits with butter, salt, pepper, and some crumbled turkey sausage. (You're right -- no self respecting Southerner eats instant grits. But, I LOVE grits. And, when you're in a hurry, instant grits are better than no grits at all!)
10:00am: I arrive at QVC for a host training meeting. We're reviewing upcoming products today, many of which are perfect for the holidays. QVC takes holiday shopping very seriously (which works out well for me because it's my favorite time of year)! I'm sure we'll also have some housekeeping issues to discuss before we adjourn for lunch.
12:00pm: Sitting down with my In the Kitchen with David team members -- Managing Producer Jonathan, Associate Producer Mary, Content Strategist Lori, Senior Copywriter Amy, Senior Designer Joe, Social Media Coordinator Eleni, and Shooter/Editor Wes. (I'm so grateful to work with such a tremendous team. I owe them a great deal. None of the show's successes, my successes, or the cookbook's successes would be possible without their help.)
2:30pm: Hooray! We just surprised our Public Relations guru Nikki with a surprise bridal shower! She's getting married in two weeks and we celebrated with one of the best store-bought cakes I've ever had. Mary even gave me her icing!
4:00pm: I'm off to the gym and get my news-fix. l watch the news while I workout so I can try to forget how much I hate it. I have a voracious appetite for news which comes from working in the industry before my days to QVC. Today, the headlines are all about tomorrow's very first presidential debate.
7:45pm: It's raining tonight. And it's been a rainy, rainy week. So I'm craving more comfort food. Tonight, I'm going to make pot roast with cheddar mashed potatoes and green beans. And maybe I'll whip up a brand-new comfort food recipe -- something for the freezer perhaps, for a rainy, I-don't-feel-like-cooking night!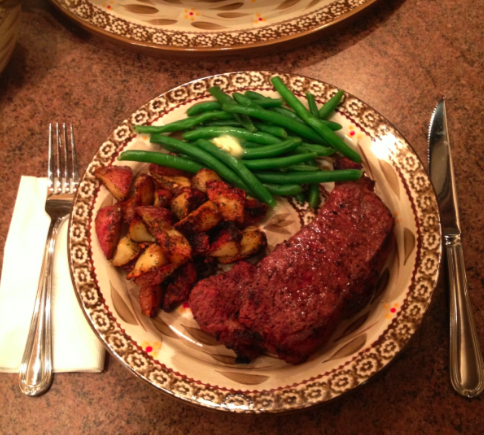 Wednesday, October 3
9:00am: Tired this morning and it's STILL raining! But, I pulled myself out of bed. I'm most productive in the mornings and I really like taking care of emails and phone calls first thing, so I can start my day ahead of the game. I also have to prepare for my weekly meeting with the entire In the Kitchen with David (ITKWD) team this afternoon.
2:30pm: I just finished my production meeting with the team. I brought them Halloween candy today and am officially their new favorite person. We discussed a new image for Twitter, heard updates on our new recipe page project, and brainstormed ideas for holiday content. QVC's PR team also stopped by today to make sure our calendars are synced to prepare for next week's very busy schedule, due to my cookbook launch on October 9.
4:00pm: It's show night! So, it's off to the salon for hair and makeup. And, then I'll meet with the extended team to discuss tonight's In the Kitchen with David-PM Edition. We have special guests tonight including Fabio Viviani! I'm getting ready a little earlier than usual because Wes is shooting some still shots and videos tonight for my blog and Facebook. Then, I'll grab a quick bite to eat before meeting each guest to review every product and discuss logistics for each on-air presentation.
7:30pm: The show starts in 30 minutes. I just pressed my apron and met with my culinary team to finalize tonight's recipe -- my Cornbread Stuffing with Bacon and Apples.
7:55pm: Now at the operations desk (as we call it). My earpiece is put in place and I hear our Online Producer Gabe and the Show Director Mariann loud and clear. Gabe and Mariann keep me informed of product quantity, time, camera angles, testimonial calls, even where I'm headed for the next sell. Here we go -- the juggling act begins!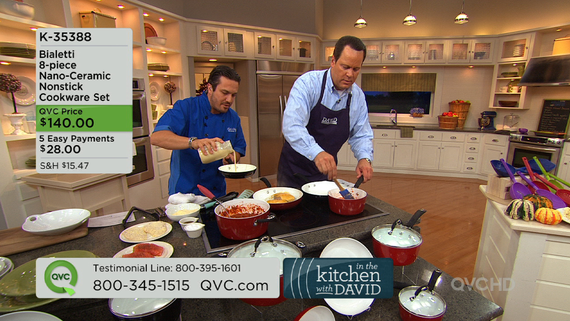 11pm: We had a great show and I ate some glorious food tonight. (Yes, I love my job!) Jonathan, Mary, and I just had a quick post-production meeting and shot a post-show photo for our Facebook foodies -- some 214,000 of them! I'm headed home now -- my pillow is calling.
Thursday, October 4
7:00am: I got up early this morning. I have a lot of comments and questions on my Facebook page to answer from last night. I always personally try to comment on those posts because I love reading them and really appreciate the great suggestions and feedback our foodies provide. And, I want to keep them engaged with me and the "In the Kitchen with David" program. I've got 15 minutes before I need to jump in the shower, just enough time to play a little Words with Friends.
11:00am: I just had a quick touch-base with Random House to discuss the book tour and overall promotion. Then, I had a quick conference call with the folks from "The Today Show" with Tara, the head of our PR team here at QVC, to talk-through my upcoming appearance!
12:30pm: We're just wrapping up a lunch meeting. Today, we (the ITKWD team) talked about which recipes we'd like to make and feature on the show for December. We came up with some yummy ideas: Prime Rib au Poivre, Gingerbread Waffles and more!
1:30pm: I just met with my scheduling assistant to arrange some flights for our book tour. We can drive to several locations, but North Carolina and Texas area bit of a hike from Philadelphia. Everything has to be considered when you fly and you're 6'6" (like me).
5:00pm: I just got home from the gym -- funny how a book tour can motivate you to exercise regularly. I have chicken noodle soup simmering on the stove and a grilled cheese sandwich on potato wheat bread browning in the skillet. For dessert, I think I'll have a little yogurt with some fresh blackberries. They remind me of my grandmother -- she had blackberry bushes in her backyard. Plus, blackberries are excellent for you; they are loaded with antioxidants.
Friday, October 5
10:30am: Today is my day off! After a late breakfast (of oatmeal with cinnamon, brown sugar, and raisins), I was am off to see my dentist. Lucky for me, my dentist is Australian and HILARIOUS. So, when he told me I'll need a root canal, somehow it didn't seem so bad, especially after he told me most of those horror stories you hear aren't typical. (They aren't typical, right???)
2:00pm: It's a gorgeous day! So, I stopped at the local farmers' market for some autumn decorations: hay bales, pumpkins, corn stalks, and red, yellow, and purple mums! I'm on my way outside right now to decorate my front porch.
6:00pm: The house looks so festive! I'm enjoying the weather so much that I'm barbecuing tonight -- a strip steak with a sweet and sour marinade. I think I'll grill some fresh veggies on the side. It'll be an early night tonight because Saturday Morning Q starts early tomorrow!
Saturday, October 6
5:30am: Good morning! Yesterday's warm weather is gone with the wind and I'm sitting at the kitchen table with my yogurt and fresh coffee with a space heater going full blast. I've got emails to answer, Facebook comments to address, and Words with Friends to play before I head into the office. I really do enjoy the peace and solitude of the mornings -- I get so much done!
8am: It's time to prep for "Saturday Morning Q," a fun, quirky show that I co-host with QVC Program Host Shawn Killinger. Unlike "In the Kitchen with David," this show offers a variety of products, not just kitchen and food. Today we've got everything from computers and televisions to electric heaters and sheets sets. The fun starts at 10am (ET)!
1pm: The show's over and I just talked my hair stylist (who is also an on-air guest) into staying to give me a quick haircut, which I so desperately need before next week's big cookbook launch! This afternoon I'm running errands. I need to stop at the pharmacy, grocery store and mall for some new shirts.
6pm: It was a productive afternoon and I'm at home waiting for some friends to arrive. We have dinner reservations nearby.
10pm: My, how time flies when you're having fun. Dinner was fantastic!
Sunday, October 7

9:30am: "In the Kitchen with David" airs today at noon, so I'm here at QVC waiting for the pre-show meeting with the team to begin. After reviewing today's line-up, we discuss a few last-minute blocking changes (which refers to the set choice, based on the item.) For example, we have my friend Tara on today with her Temp-tations(r) bakeware. She was accidentally scheduled for the main studio kitchen, but she should be in our show kitchen (which is equipped with three ovens), so she can demo the bakeware properly.
10:00am: I'm in the salon for hair and makeup. Next, I'll be meeting with the guests and the culinary crew to finalize today's Apple Cinnamon Cake Recipe. Uh oh -- Mary found a little problem. We photographed and posted our beautiful apple cake online for our foodies, but it seems the white icing that garnishes the cake is not included with the cake recipe on Facebook and QVC.com. Mary and Andrea (our pastry chef) are off! Facebook will be updated any minute. QVC.com will be updated first thing in the morning.
11:30am: Today we've got a live studio audience for "In the Kitchen with David!" I love having our foodies in the building -- it keeps me motivated. Plus, they've got so much energy and enthusiasm that it's contagious. I just finished pressing my apron and now I'm going to greet some 130 guests. I hear they've come from Pittsburgh, New Jersey, Connecticut and all over the Philadelphia area. The show starts in 30 minutes! Immediately afterwards, I'm hosting an hour-long show with Dyson vacuums. (You know the vacuums that really suck....in a good way!)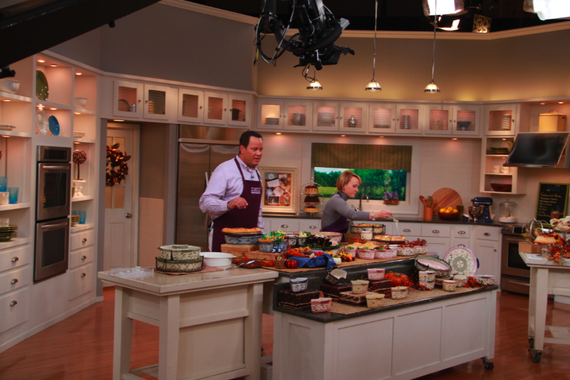 4:30pm: ITKWD was so much fun today -- I did four happy dances. (Good food...often good comfort food...makes me so happy that I literally start dancing on air. I just can't help myself!) On the show, I tasted Garlic Bread Pigs in a Blanket and Pumpkin Macaroni and Cheese with Cauliflower. They are recipes from Hungry Girl to the Max by Lisa Lillien. Then, Tanya Steel, Editor-in-Chief from Epicurious.com made Bacon Smashed Potatoes and Vermont Maple Bread Pudding. YUM! Our good friend Laura Weathers from KitchenAid whipped up some Apple Oatmeal Cookies with Maple Glaze in honor of our show theme of apples! Yep, those made me dance, too. So, make it five happy dances!
6:00pm: I'm on my way home to try out my Cheesy Cheeseburger Casserole, the recipe I recently made on the Rachael Ray show! I need to review some notes tonight. I'm meeting with Random House tomorrow morning in New York.
See more Food Informants below:
PHOTO GALLERY
Food Informants