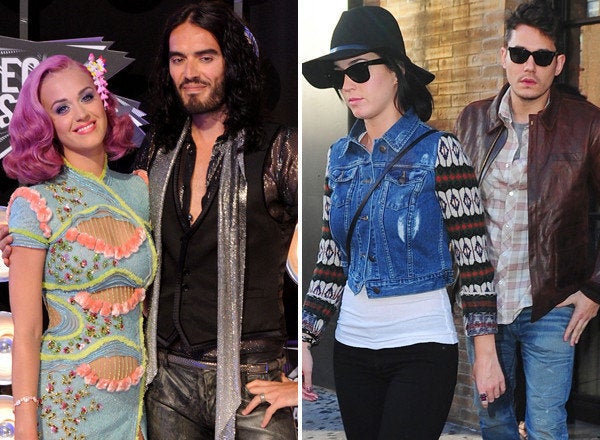 It's not uncommon that a girl dumps a look along with her boyfriend -- after all, when a woman dates different people, she's usually thrown into different situations that can inspire her to take on different styles. So after seeing Katy Perry step out in a floppy hat and a denim, printed-sleeve jacket with her rumored new boyfriend John Mayer yesterday, we think we know exactly what happened.
Now that she's playing the are-they-or-aren't-they dating game with John Mayer, we're not seeing the bubble gum look that shot her to fame anymore. Could Katy's new musician boyfriend have influenced her to ditch the crayola-colored hair and light-reflecting clothes? That we can't be sure of. But we can be sure that the brunette bombshell has been decidedly more muted since she split with the eccentric British actor in December 2011.
While we doubt Mayer swooped in and gave Katy a fashion intervention ᅢᅠ la Kimye, there's certainly been a change in her aesthetic since they were linked last July. Maybe the trends have just shifted or Katy wanted to try something new completely independent of her romantic relationships. Like we said, we're really only hypothesizing based on the evidence presented before us. But it's certainly interesting to think that stars, like us fashion-minded real people, have such a situational gauge of their sense of style.
As evidence of our theory, we've rounded up Katy Perry's opposing looks in the slideshow below. Do you see a difference in Katy Perry's Russell Brand and John Mayer styles? And have you ever shifted your wardrobe during a relationship -- even if you only noticed after the fact?
PHOTO GALLERY
Katy Perry's Shifting Style