The always-wacky ad team at Spirit Airlines is capitalizing on Mitt Romney's now-famous debate turn of phrase.
"Check out our binders full of..." the budget carrier teased in an email subject line sent to customers Wednesday, before offering sales -- lots and lots of sales.
"We've got tons of binders full of sales!" read the alert, adding "Women will love them!" (Story continues below.)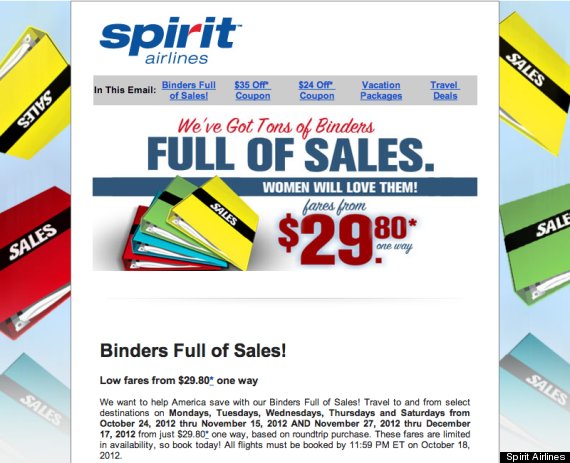 The ad, of course, references the Republican presidential nominee's argument during Tuesday night's town hall debate, when asked how he would ensure equal opportunities and pay for women in the work place.
Romney said that while serving as governor of Massachusetts, he noticed there were no female applicants for jobs on his staff.
"I went to a number of women's groups and said, 'Can you help us find folks?' and they brought us whole binders full of women," he said.
Since then, the "binder" comment has gone viral through internet memes, Twitter jokes and even songs.
Fort Lauderdale-based Spirit has never shied away from creating buzz-worthy sales pitches to customers. After a Secret Service prostitution scandal earlier this year in Colombia, the company offered "more bang for your buck" in flights going to Cartagena.
And after the Deepwater Horizon oil spill in the Gulf of Mexico in 2010, Spirit banked on the news by offering discounted trips to Atlantic City to see another kind of oil on the beaches.
BEFORE YOU GO