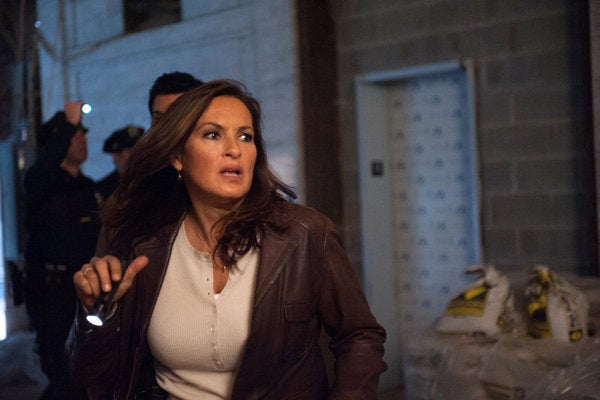 An old case is coming back to haunt Olivia Benson (Mariska Hargitay) in the 300th episode of "Law & Order: SVU." How old? It's from the show's first episode thirteen years ago.
"SVU" is celebrating the milestone by remembering the past. The episode will be focused on original players Hargitay, Richard Belzer and Dann Florek.
"I thought, if we're doing a 300th episode, it'd be nice to have some callbacks to the first episode. So we tried to do that a couple of different ways," Leight told TVLine.
The episode will also feature many actors who appeared in the series' first episode, but they'll be playing different roles. Here's how NBC describes the episode:
IN THE SERIES' 300TH EPISODE, A CHILD ABDUCTION INVESTIGATION RE-OPENS THE THIRTEEN YEAR-OLD COLD CASE OF ANOTHER MISSING BOY In the series' landmark 300th episode, a young boy from Morningside Heights is kidnapped while in the care of his father, and the investigation reminds Captain Cragen (Dann Florek,) Sergeant Munch (Richard Belzer) and Detective Benson (Mariska Hargitay) of an unsolved kidnapping that occurred in the same neighborhood thirteen years ago. While the entire squad races against the clock to find the missing boy, Benson vows to learn from past mistakes to set both cases right. Also starring Ice-T (Detective Odafin Tutuola), Danny Pino (Detective Nick Amaro) and Kelli Giddish (Detective Amanda Rollins.) Guest starring Tom Sizemore, Hamish Linklater, Mili Avital, Alex Karpovsky, Chris Orbach and Jenna Wolfe.
Take a look at the trailer below and click through the slideshow to see how the cast and crew celebrated the big episode, which airs Wednesday, October 24 at 9 p.m. ET on NBC.
PHOTO GALLERY
'Law and Order: SVU'
BEFORE YOU GO