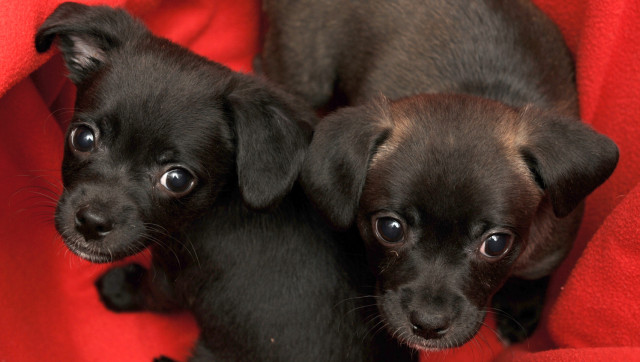 WASHINGTON -- The VelocityDC Dance Festival is on, and among the many reasons to be excited about this annual sold-out event: puppies. Those four chihuahua-pug mix puppies you see in the photos will be part of the performance.
Choreographer Gesel Mason will be including these puppy-mill rescues in her opening performance, called "The Top 10 Reasons That VelocityDC Is Better Than So You Think You Can Dance and Everything Else on Reality TV."
"VelocityDC Top 10 is a follow up to another piece I created called 'How to Watch a Modern Dance Concert or What in the Hell Are They Doing on Stage,'" Mason told The Huffington Post. "The inclusion of puppies was inspired by the W.C. Fields advice to never work with animals or children. The puppies and babies aren't trained, they come on stage and do whatever they do best, namely, be cute and alive."
Check out the schedule here to see when you can catch the doggies being cute and alive, and all the other provocative and interesting performances running Thursday through Sunday at the Shakespeare Theatre Company's Sidney Harman Hall (610 F St. NW). Tickets are $18 per show.
Like what you see? The seven-week-old pups are up for adoption through the Washington Animal Rescue League.
BEFORE YOU GO