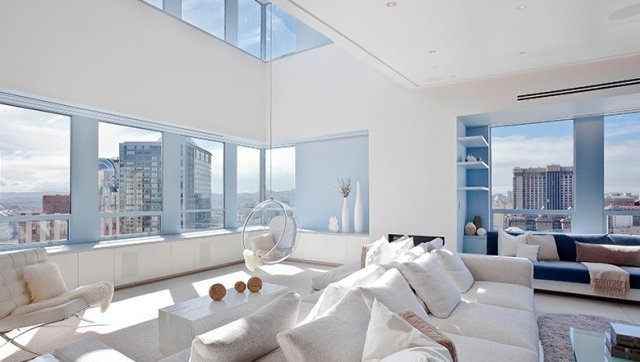 Life is good when you're the cofounder of YouTube.
But the simple layman (with an extra $8 million lying around) can have a piece of the action with cofounder Steve Chen's sprawling Ritz-Carlton Residences Penthouse, now on the market.
Chen, who cofounded the video sharing website in 2005, bought the 3,000-square-foot two-story penthouse in 2007 and, according to Socketsite, quickly turned it into the ultimate tech bachelor pad. (In case the three side-by-side flat screens didn't give that away.) But according to Curbed, the recent husband and father is now trading in the bachelor pad for a baby pad in the suburbs.
Chen's loss is your gain.
The panoramic view alone is enough to sell this place, but the open floor plan, concealable loft and uber-techy details (personal theater, climate control, iPad control capability and something called a "hanging bubble chair") don't hurt either. Plus, the place is in the Ritz-Carlton Residences, so the gym, 24/7 concierge, valet parking and 98 walk score make it the ultimate startup fantasy.
Check out the website for details and pictures of the penthouse below
PHOTO GALLERY
YouTube Penthouse