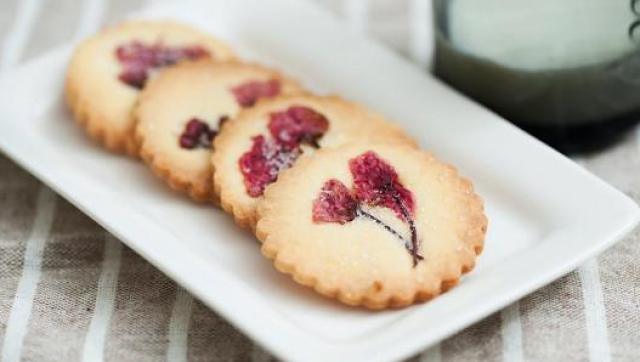 There's a lot to be learned in the world of decorating cookies, especially when the holidays come around. You can pipe frosting to spell out a message, flood cookies with royal icing or you can get hip with sakura.
Sakura is what the Japanese call the pink cherry blossoms they're famous for. After enjoying the overwhelming beauty of the flowers in the spring, the blooms can be preserved (in salt and vinegar) to be used in cooking. You can use sakura for marinades, mix it with rice, or in baking. We came across sakura cookies on the food blog, Bicil The Baker, and boy are we glad we did.
Sakura cookies are what happens when pressed flowers and sugar cookies get together -- they're just beautiful. While we understand that beauty is entirely subjective, we don't see how, or why, anyone would disagree with the beauty of eating a cookie that tastes like spring.
There are two ways you can get your hands on sakura. You can either preserve the blossoms yourself or you can find them at Chef Shop.
Want to read more from HuffPost Taste? Follow us on Twitter, Facebook, Pinterest and Tumblr.
Check out these other cookie recipes.
PHOTO GALLERY
Cookie Recipes
BEFORE YOU GO