Seems nobody in Miami likes having the Kardashians around.
Since Kourtney and Kim were unwelcome in ritzy Miami Beach neighborhoods, the reality show duo has moved into the North Miami development Sans Souci to film 'Kourtney and Kim Take Miami' -- but their neighbors are less than thrilled, the Miami Herald reports.
A real estate agent working to sell a lot next door to the Kardashian's mansion on Northeast 120th Road told the Herald, "They have dozens of cars parked all over the place. I'm trying to sell a lot next door, and I can't get buyers on the property. There are paparazzi all over the place!"
Another resident said "everybody's ticked off."
The Kardashians previously tried to find homes in Miami Beach's posh Venetian Islands and North Bay Road neighborhoods to no avail, as the city requires a certain number of neighbors to approve of any extended filming in the area.
Now the clan is living about 20 minutes from poppin' South Beach, so they'll have to schlep on down when Kim hosts her Halloween birthday bash at LIV Nightclub.
A source told Show Biz Spy that the area the Kardashians are living in is "known for its hourly hotels, strip clubs and high crime rate. It's a far-cry from their usual posh digs, with just a 7-Eleven and an abandoned old bank close by."
Hourly hotels, strip clubs, and crime -- isn't this every part of Miami-Dade County? But don't worry, Kanye West isn't exactly slumming it during sleepovers. The waterfront property at right is reportedly where the Kardashians are currently holed up, even though Kim's been spotted "house hunting" with Kanye elsewhere: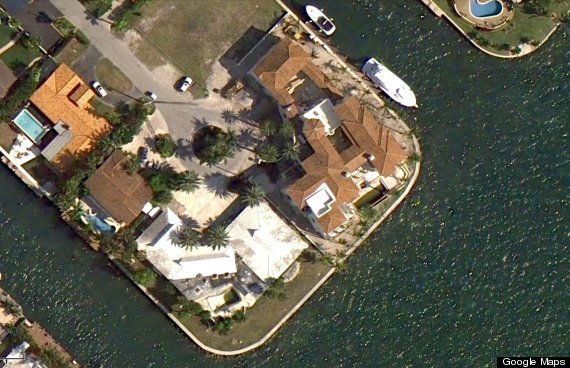 BEFORE YOU GO
PHOTO GALLERY
Kim Kardashian Through The Years