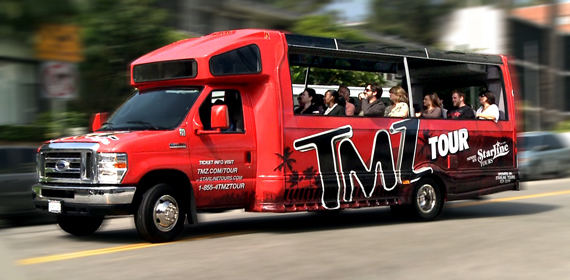 (Photo courtesy of TMZ)
WHEN IT COMES TO trading on the fantasy of celebrity, there's no city better suited for it than Los Angeles. For star worshippers seeking a bonafide celebrity encounter on Hollywood Boulevard, there's one long-held tradition that will do: star home tours.
Packed shoulder-to-shoulder on one such tour last weekend, tourists oohed and aahed at the magnificent estates of Kim Kardashian, Lady Gaga, Jennifer Aniston, Jennifer Lopez, Kobe Bryant, Madonna and George Clooney in Beverly Hills and Bel-Air.
But a simple check of LA County's public records reveals that almost none of the homes featured on the tour that day have ever been associated with the stars mentioned.A Beverly Hills home said to belong to Jennifer Aniston in fact belongs to Dr. Phil. Kobe Bryant was said to live down the street from Aniston, when in fact Bryant's three homes can be found in Newport Beach.
Lili Bosse, a Beverly Hills city council member, is the actual owner of a home the tour linked to Kim Kardashian. She laughed about it in a conversation with Huffington the day after the tour.
"Kim Kardashian has never lived in this home," she confirmed. "We have tour buses all the time, and the names are constantly changing. I guess Lili Bosse isn't interesting enough," she joked.
Star tours started appearing in L.A. almost as soon as entertainment industry blossomed in the region, and the tour bus industry's most recent crop of independent operators all model themselves after Starline, a Hollywood tours juggernaut that has been operating since 1935. Today, dozens of hawkers work on commission on Hollywood Boulevard, selling perpetually discounted tickets for celebrity home tours.
For Starline, dominating the industry means occasionally getting blamed for the less scrupulous actions of their scrappy little competitors. While there is no real effort to keep track of which tours lie (confirming the veracity of Hollywood home tours isn't high on the list of priorities for city officials), many tours were on routes similar to the Hollywood Tours one that day.
Lori Daniels of Rancho Palos Verdes, Calif., was on board and said she was OK with the deception. "It's more [about the] ambience of the tour than being 100 percent factual," she said. But the fundamental dishonesty of this kind of celebrity encounter has left an opening for a new kind of star tour, one that ditches the classic model for one that's perhaps more authentic — which in today's world, means it comes with an eye to scandal: The controversial, and cheekily subversive, TMZ Tours.
Partnering with industry veteran Starline, TMZ ditches the classic presentation of Hollywood history and fawning appraisals of celebrity homes for a less-than-flattering history of their most embarrassing moments. The tour, Starline's fastest-growing one, invites passengers to keep a hawk-like vigilance for celebs on the street to approach for photos and impromptu interviews. Tour guides, armed with an iPhone affixed to a massive flash bulb, push the possibility that at any given moment, on this very tour, you, too, could add to their canon of clips.
Kathleen and Lisa Dettman, a mother and daughter from St. Joseph, Mich., didn't spot any celebrities on their tour, but the mere possibility was enough to satisfy.
"I wanted the TMZ experience," Lisa Dettman, 35, told Huffington. "That was the one thing I wanted to do when I was here."
Well-versed in TMZ's signature snark, tour guides also take on the role of Harvey Levin, the TMZ founder who leads the daily pitch session-turned TV news show.
"Did you cry during Kim Kardashian's wedding?," guide Alex Gettlin mocked as the TMZ bus stopped outside the London West Hollywood hotel. "At yourself? Because you're the loser watching Kim Kardashian's wedding on TV?"
Just when the ribbing gets to be almost too much, Gettlin pulls back. "This is a safe place," he assured. "We only judge celebrities here." Right on cue, the bus's TV monitors show footage of Kardashian getting flour-bombed at the very hotel he's parked in front of. "If you were going to do that to a celebrity," Gettlin quipped, "Wouldn't you at least use paint or something else that sticks?"
The video element is key for TMZ's tour, billed as a "show on wheels." Almost every story is accompanied with B-roll or TMZ news coverage of an embarrassing celebrity meltdown, which leaves no questions about the authenticity of the tawdry tidbit.
Rolling past the Chateau Marmont, for example, triggers a 911 recording of Josh Hartnett complaining about explosive diarrhea in his hotel room. Where the stars fistfight, where they film their sex tapes, where they trip and fall — that's where you'll find the TMZ bus.
Celebrity sightings do happen, as it's a lot more likely to catch stars living, working or eating in their natural environs instead of in neighborhoods that none of them actually live in. But even without any star sightings that day, Gettlin still managed to deliver the impression that celebrity was just around the corner.
At one point, Gettlin called out to a pair of Osteria Mozza workers taking a break on Melrose Avenue, "Any big celebs eat here lately?" Neither of them said a word as they walked back into the restaurant and closed the door behind them.
Gettlin insists "paparazzi" isn't TMZ's style. "We don't chase anybody down," he told Huffington after the tour. "We're not going to hop off the bus and run down an alley to get a celebrity."
At least not yet, anyway.
This story originally appeared in Huffington, in the iTunes App store.

BEFORE YOU GO
To browse celeb-frequented restaurants in other cities, check out the rest of Urbanspoon's list.
PHOTO GALLERY
Where To Spot A Celeb