An artwork by Yves Klein, Papa Smurf of the art world, is heading to Christie's this fall, boasting a hefty price tag. The 1958 work, titled "Accord Bleu," is estimated to fetch between $8 million and $10 million.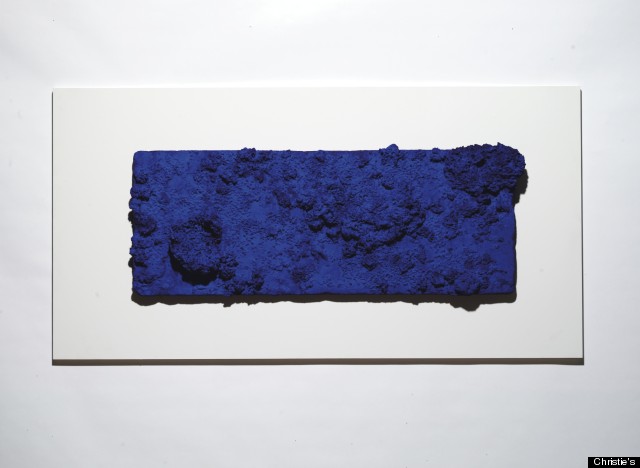 The piece is essentially a large-scale sponge relief soaked in the artist's signature color -- International Klein Blue (IKB). It's not just any sponge, though. Christie's states that the porous canvas marks one of the earliest examples of Klein's sponge-on-particle-board technique, a medium that would later become iconic to the monochromatic master's oeuvre.
Klein, a member of the Nouveau realisme movement and lover of all saturated hues, became a sponge-relief fiend after "Accord Bleu", gleaning satisfaction from the combination of concentrated color and textural aesthetic. In a text written for an exhibit in 1957, the artist described his budding obsession:
"When working on my pictures in the studio, I sometimes used sponges. Naturally they turned blue very rapidly! One day I noticed how beautiful the blue in the sponge was, and the tool immediately became a raw material. The extraordinary capacity of sponges to absorb everything fluid fascinated me. Thanks to the sponges I was going to be able to make portraits of the observers of my monochromes, who, after having seen, after having voyaged in the blue of my pictures, return totally impregnated in sensibility, as are the sponges."
The pricey piece, which was consigned by the Brooklyn Museum and previously displayed in the Gelsenkirchen Opera House in Germany, will head to auction on November 14th, 2012 in New York. It will be on preview in London, Paris and New York prior to the sale.
You can watch Klein put together one of his massive installations here. Let us know what you think of the lapis lazuli wonders in the comments section and scroll down to see a slideshow of recent auction items at Sotheby's Hong Kong Contemporary Art Sale below.
PHOTO GALLERY
Contemporary Asian Art Sale