Despite calls to cease using a popular slogan from "Friday Night Lights," Mitt Romney is showing no signs of stopping.
The GOP presidential candidate took a breather from preparing for the third and final presidential debate on Sunday, watching reporters and his staff partake in a football game. The Associated Press reports that Romney mediated the coin toss, handing out bracelets to the team captains that read "Clear eyes, full hearts, America can't lose."
"Figure out which of their players is best and take them out early," Romney told his aides jokingly. "That's right, don't worry about injuries guys, this counts. Win."
A little more than a week ago, "Friday Night Lights" creator Peter Berg sent Romney a letter imploring him to stop fusing his show with the 2012 campaign. In the document obtained by The Hollywood Reporter, Berg adamantly wrote that Romney "falsely and inappropriately associates" the series with his run for president.
"The only relevant comparison I see between your campaign and 'Friday Night Lights' is in the character of Buddy Garrity -- who turned his back on American car manufacturers selling imported cars from Japan," Berg added.
Those words did little to sway Romney, who as of Oct. 21, continued to sport a Facebook cover photo of the back of his head, accompanied by the movie's main tagline. (Photo credit: Mitt Romney Facebook page)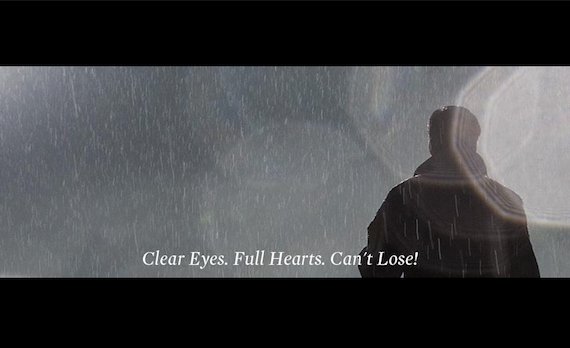 HuffPost Politics put together some options for other movie taglines that candidates could adopt as they head toward Election Day. Vote on our choices and give us your own suggestions in the comments below.
PHOTO GALLERY
Movie Lines Perfect For The 2012 Campaigns
BEFORE YOU GO