A large-scale exhibition of works by filmmaker and visual artist Steve McQueen debuts at the Art Institute of Chicago this weekend. The solo show marks the first comprehensive presentation of his art in the United States, and is showcases his work as a master of moving images.
McQueen is known for his dark and intimate portrayals of lives on the edge, most recently taking the shape of 2011's FIPRESCI's prizewinning film, "Shame." Featuring Michael Fassbender as an unstable sex addict, the movies is but one of several of McQueen's projects that addresses issues of violence and eroticism. His 2008 film, the widely acclaimed "Hunger", similarly confronted the depths of human suffering, recounting the 1981 Irish hunger strikes.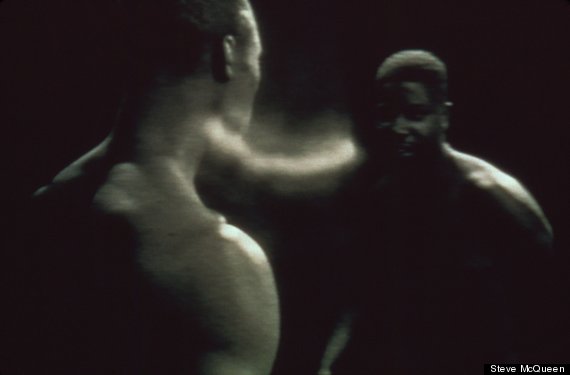 Steve McQueen. Bear, 1993. Photo courtesy of the artist, Marian Goodman Gallery, New York /Paris, and Thomas Dane Gallery, London.
Both feature films will be screened as part of the Chicago exhibition, which will highlight 12 of the British filmmaker's other cinematic works. The show includes pieces like "End Credits," a biographical survey of African American singer and activist Paul Robeson, as well as the artist's first project following his graduation from Goldsmiths College, "Bear." Seen in full, the array of moving-image works showcases the artist's ongoing manipulation of light and motion, demonstrated through video art of all genres.
The retrospective was curated by contemporary art expert James Rondeau. In a recent interview with The Art Newspaper the curator commented on McQueen's vision, stating, "We live in a world that's overly saturated by moving image and I think that the core of Steve's practice is to slow that down to understand how we can perceive beauty."
The exhibition comes in the wake of Steve McQueen's recent placement on the Art Review's Power 100 list. Scroll down for more images of the retrospective and let us know what you think of McQueen's work in the comments section.
PHOTO GALLERY
Steve McQueen Exhibit
"Steve McQueen" runs from October 21, 2012 - January 6, 2013 at the Art Institute of Chicago's Regenstein Hall.
BEFORE YOU GO