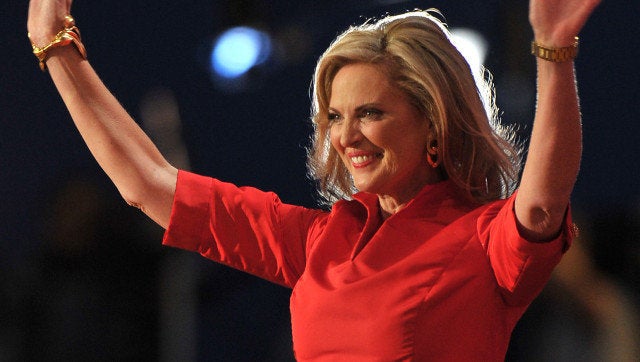 It's not often that first ladies -- or, in this case, prospective first ladies -- show the world their bathing suit bods, so we definitely did a double take when we saw The Daily Mail's pictures and video of Ann Romney strutting her stuff on a Florida beach over the weekend.
The 63-year-old hung out with her son Craig, daughter-in-law Mary and grandchildren in Delray Beach, splashing around in the waves (reportedly unrecognized!) and sporting a bright, floral one-piece with a matching sarong -- not a bad way to relax before Monday's presidential debate. As for the mother-of-five's choice of suit, we have to say that it's actually pretty cute. Well done, Ann.
So will Michelle one-up Ann in her own stylish swimsuit? Not likely -- the first lady has a definitively anti-swimsuit stance. "That's been my one goal: I don't want to be caught dead in a bathing suit," Mrs. O told People. (Ed note: FLOTUS has already been snapped in a black one-piece before, so we can say with great certainty that she has absolutely nothing to be shy about.)
Check out Ann Romney's style!
PHOTO GALLERY
Ann Romney's Style Evolution