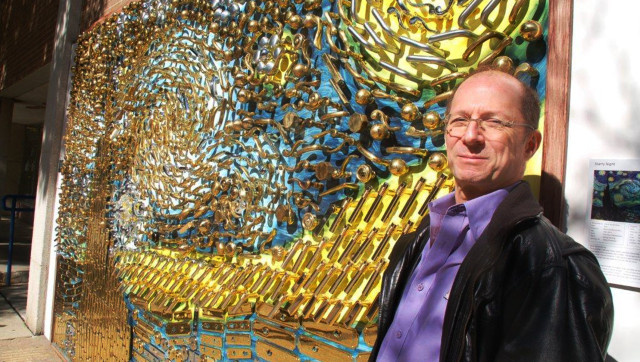 A hardware store owner based in Bethesda, Maryland recently needed a creative use for his discontinued doorknobs and home accessories. Perhaps not surprisingly, he found inspiration in art history's favorite zen-brooder, Vincent van Gogh. Now, David Goldberg is known as David Van Go-berg.
Goldberg chose van Gogh's iconic painting, "Starry Night," as an alternate choice to a recycling bin, and we couldn't be happier. Using 1,250 doorknobs, lever, plates, and other odd materials, Goldberg beautifully recreated van Gogh's tribute to the night sky. You can catch the clever owner's artistic handywork on display outside his store, Union Hardware.
Do you think this brassy homage captures the spirit of the original? Let us know in the comments section.
h/t Inhabitat.
PHOTO GALLERY
Starry Night In Doorknobs
BEFORE YOU GO