Today is the birthday of American painter and pop art precursor Robert Rauschenberg. The artist, known for his tendency to incorporate found objects and trash into his vibrant work, would turn 87 if he were still alive today.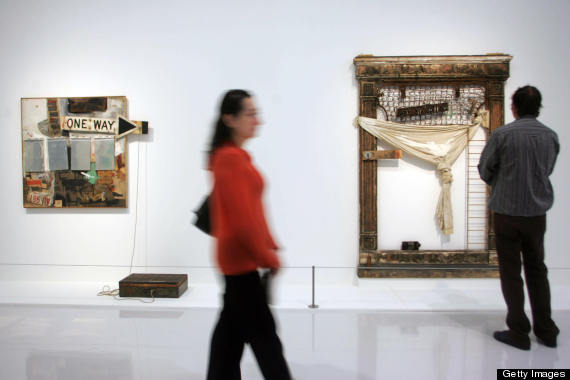 Paris, FRANCE: People look at 'Black Market' (L) and 'Trophy III (for Jean Tinguely) pieces by Texan artist Robert Rauschenberg at the Centre Pompidou in Paris. AFP PHOTO JACQUES DEMARTHON.
Rauschenberg was born in Port Arthur, Texas on October 22nd, 1925. He attended Black Mountain College in North Carolina, where he met fellow students Josef Albers, Merce Cunningham and John Cage. Like many artists at the time, in the late 1940s Rauschenberg made his way to New York, joining the Art Students League in New York alongside Josef Albers and Cy Twombly.
His first successful series was his seminal "White Paintings," which were created in 1951. These established Rauschenberg's interest in the relationship between installation and the viewer. But it was his series of "Combines," initiated in 1954, that became the artist's signature style. This work of art combined everyday objects with abstract painting in a way that referenced both art history and mass pop culture. Rauschenberg earned the label "Neo Dadaist," a term also given to the artist's one-time partner Jasper Johns, with whom Rauschenberg collaborated during his early period in New York.
Later in his career, Rauschenberg turned toward printmaking, performance art, and technology-based works, expanding his ever-increasing interest in all forms of art based media. In 1976, he was recognized as America's bicentennial artist, participating in a retrospective exhibition at Washington's National Collection of Fine Arts. Nearly 20 years later, he was honored with another retrospective so large that it spanned the halls of three New York museums, showcasing nearly 450 works by the artist alone.
Rauschenberg died on May 12th, 2008. Since then, his work has toured the globe, in exhibitions and via top auctions, where creations like "Studio Painting" sell for millions.
In honor of the anniversary of Rauschenberg's birth, we've put together a slideshow of some of his most famous works of art. Scroll down for images and let us know how you will be celebrating the great contemporary artist's birthday in the comments section.
PHOTO GALLERY
Robert Rauschenberg
BEFORE YOU GO