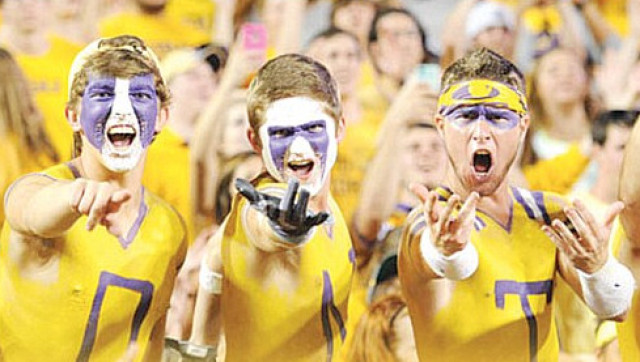 Louisiana State University landed in hot water last week when the school appeared to have airbrushed Christian crosses out of a photo of several LSU fans who had painted the symbols on their chests.
LSU often posts fan photos on the school's website and Facebook page and in its email newsletter. After the Oct. 13 football game against the University of South Carolina, the administration emailed a picture to the student body of a group of fans who call themselves the "Painted Posse" because they paint themselves in the school's colors for games. Posse members also notably paint crosses on their chests as a symbol of their Christian faith.
But when the students saw their picture in the school's email newsletter, they noticed the crosses had been removed. The airbrushing prompted anger and a certain amount of confusion, since the crosses remained in pictures posted on Facebook and on the school's website, the Daily Reveille reported.
"I was a bit surprised, because our pictures get used so frequently, and the cross had never been edited before," Posse member Cameron Cooke told Campus Reform.
LSU is unapologetic. The school released a statement to NBC 33 saying it airbrushed the students' image in an effort to avoid "making any religious or political statements." The school also maintains it has a legal right to do whatever it wishes with the photo, as the students' ticket is a release to manipulate any image taken at the game.
In the future, LSU will no longer use sporting event images that include religious icons, Fox 8 reported.
UPDATE:
LSU has issued an apology for the incident on their facebook page:
LSU sent out a promotional message on October 15 to its sports fans asking for feedback on their experience at the LSU-South Carolina game on October 13. In messages to sports fans we attempt to convey no religious or political messaging.

We did not intend to offend anyone by the editing of this photograph and in the future we will use another photo rather than make a similar edit. We erred in our judgment and we have communicated our apologies to the group of young men represented in the photo whose school spirit is second to none
Check out (un-retouched) photos of the "Painted Posse" below:
PHOTO GALLERY
LSU's Painted Posse