Every day HuffPost Religion is documenting the diverse world of religion using photographs. These images will provide insight into the colorful festivals that people around the world celebrate, illustrate the personal faith and practice of individuals and reveal the dramatic intersection of religion with art, culture, politics and world affairs.
As the old adage goes, "A picture is worth a thousand words." We hope you enjoy following along.
06/11/2013 11:33 PM EDT
June 11: Canadian Muslims Demontrate Against Terrorism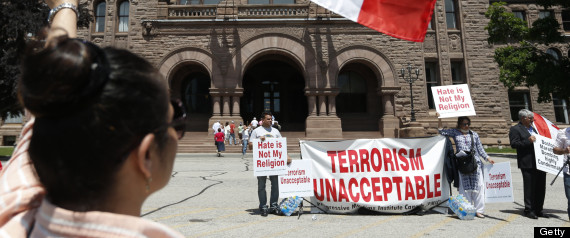 Haleema Sadia, of Burlington, holds up a Canadian flag during an anti-terrorism demonstration by progressive Muslims at Queen's Park. (Bernard Weil/Toronto Star via Getty Images)
05/15/2013 11:34 PM EDT
May 15: Poppies' Field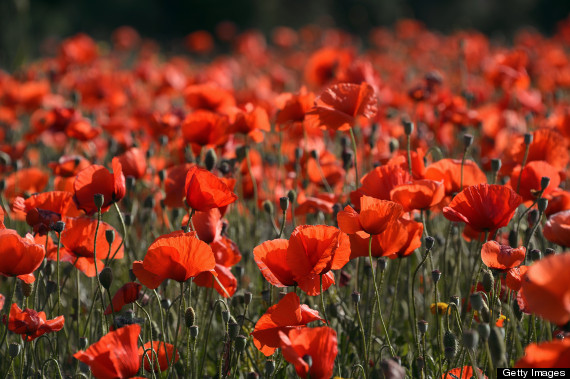 A poppies' field is pictured near Ostuni, in the province of Brindisi in Puglia, south-east of Italy, on May 14, 2013. AFP PHOTO / GABRIEL BOUYS
05/04/2013 6:23 PM EDT
May 4: Orthodox Easter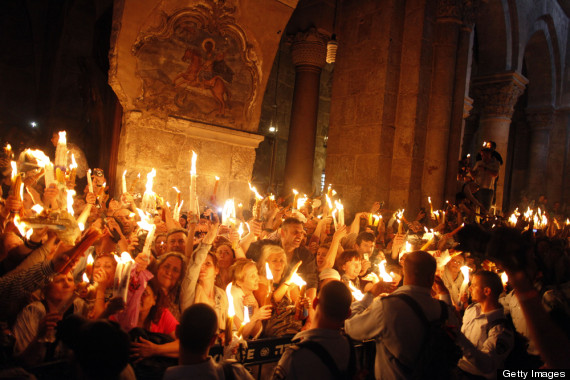 Christian worshipers light candles lit from a flame that emerged from the tomb believed to be of Jesus Christ as they take part in the ceremony of the holy fire at the Church of the Holy Sepulcher May 04, 2013 in Jerusalem, Israel. The ancient fire ritual celebrates the Messiah's resurrection after being crucified on the cross. (Photo by Lior Mizrahi /Getty Images)
04/30/2013 9:50 PM EDT
April 30: Dramatic Sunrise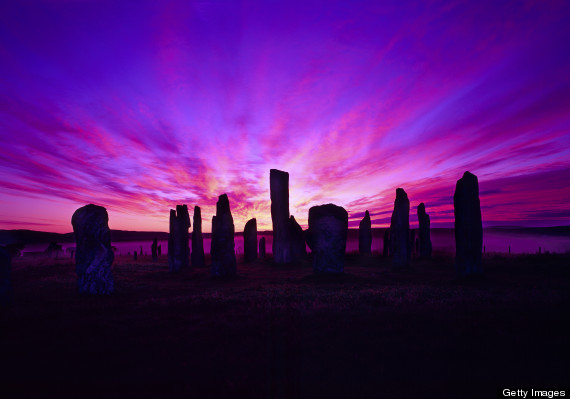 Dramatic sunrise over the standing stones at Callanish on the Isle of Lewis.
04/29/2013 9:41 PM EDT
April 29: Sheikh Zayed Mosque in Abu Dhabi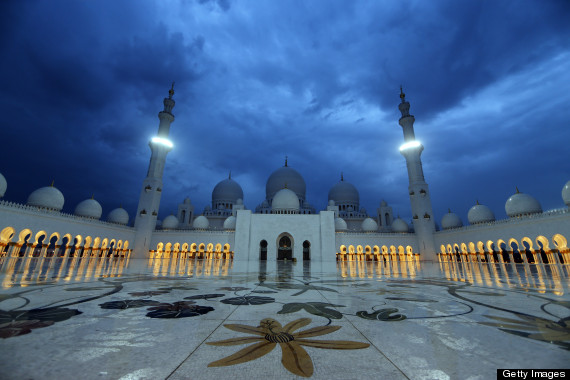 A general view of the Sheikh Zayed Mosque in Abu Dhabi, the capital of the United Arab Emirates (UAE), on April 28, 2013. The mosque is named after Sheikh Zayed bin Sultan al-Nahayan the founder and the first president of the UAE. AFP/PHOTO Karim Sahib
04/18/2013 7:31 PM EDT
April 18: Sikh Devotee Pays Respects At Golden Temple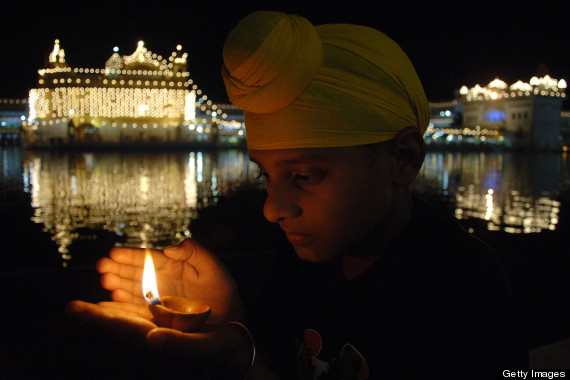 An Indian Sikh devotee holds an oil lamp as he pays his respects at the Golden Temple in Amritsar on April 18, 2013 on the occasion of the 392nd birth anniversary of the ninth Sikh Guru, Teg Bahadur. Guru Tegh Bahadur, the youngest of the five sons of Guru Hargobind, was born in Amritsar in 1621 and was executed on the orders of Mughal Emperor Aurangzeb in Delhi in 1675. AFP PHOTO/ NARINDER NANU
04/15/2013 7:32 PM EDT
April 15: Woman Prayers At The Scene Of Boston Marathon Explosions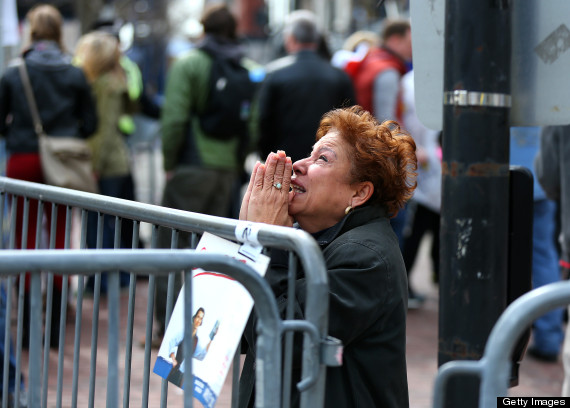 A woman kneels and prays at the scene of the first explosion on Boylston Street near the finish line of the 117th Boston Marathon on April 15, 2013. (Photo by John Tlumacki/The Boston Globe via Getty Images)
04/14/2013 11:51 PM EDT
April 14: Vaisakhi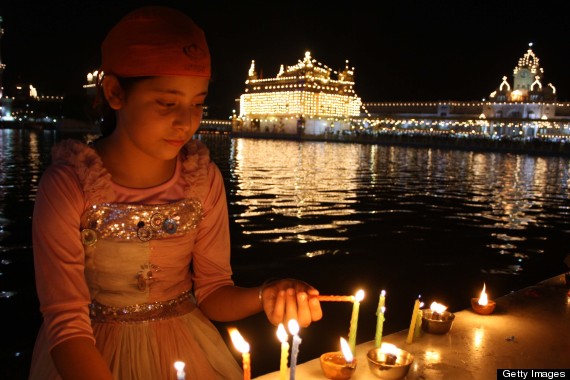 An Indian Sikh devotee girl lights candles at the illuminated Sikhism's holiest shrine, the Golden Temple in Amritsar on April 13, 2013 on the occasion of Baisakhi. Baisakhi marks the Punjabi and Nepali New Year and the beginning of the harvest season in Punjab state and Nepal. AFP PHOTO/ NARINDER NANU
04/01/2013 2:59 PM EDT
March 31: Pope Francis Hugs Disabled Boy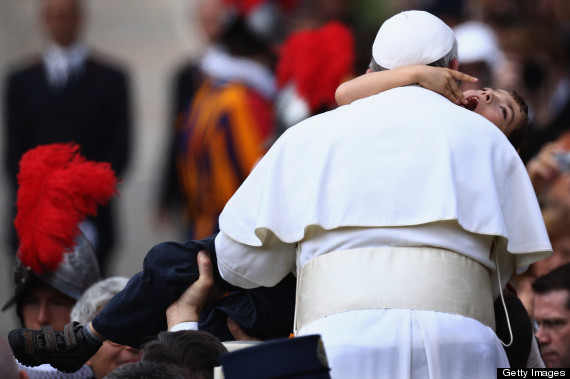 Pope Francis holds a disabled child as he greets the faithful prior to his first 'Urbi et Orbi' blessing from the balcony of St. Peter's Basilica during Easter Mass on March 31, 2013 in Vatican City, Vatican. Pope Francis delivered his message to the gathered faithful from the central balcony of St. Peter's Basilica in St. Peter's Square after his first Holy week as Pontiff. (Photo by Dan Kitwood/Getty Images)
03/28/2013 3:35 PM EDT
March 28: Pope Francis Holy Thursday Ritual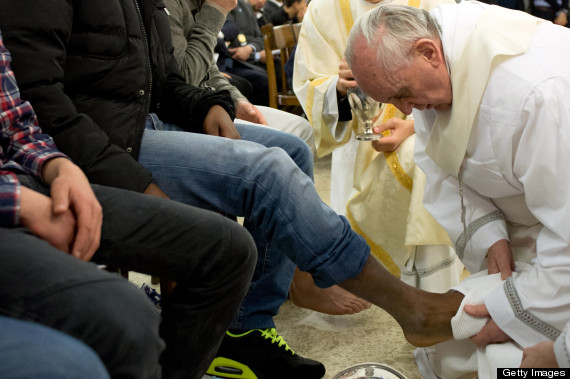 Pope Francis washes the feet of a prisoner at the Casal Del Marmo Youth Detention Centre during the mass of the Lord's Supper on March 28, 2013 in Rome, Italy. During the mass, commemorating Christ's Last Supper, Pope Francis will wash the feet of prisoners in the Casal Del Marmo youth detention centre in observance of the Bible's account of Jesus Christ's gesture towards his 12 apostles on the night before he was crucified. (Photo by Servizio Fotografico L'Osservatore Romano via Getty Images)