The Garage Center for Contemporary Culture in Moscow unveiled its most recent art installation in Gorky Park this weekend. Designed by Japanese architect Shigeru Ban, the work is a far cry from the mammoth concrete structures usually seen in the city. Instead, Ban's creation is a sprawling eco-friendly pavilion made mostly from locally produced cardboard tubes.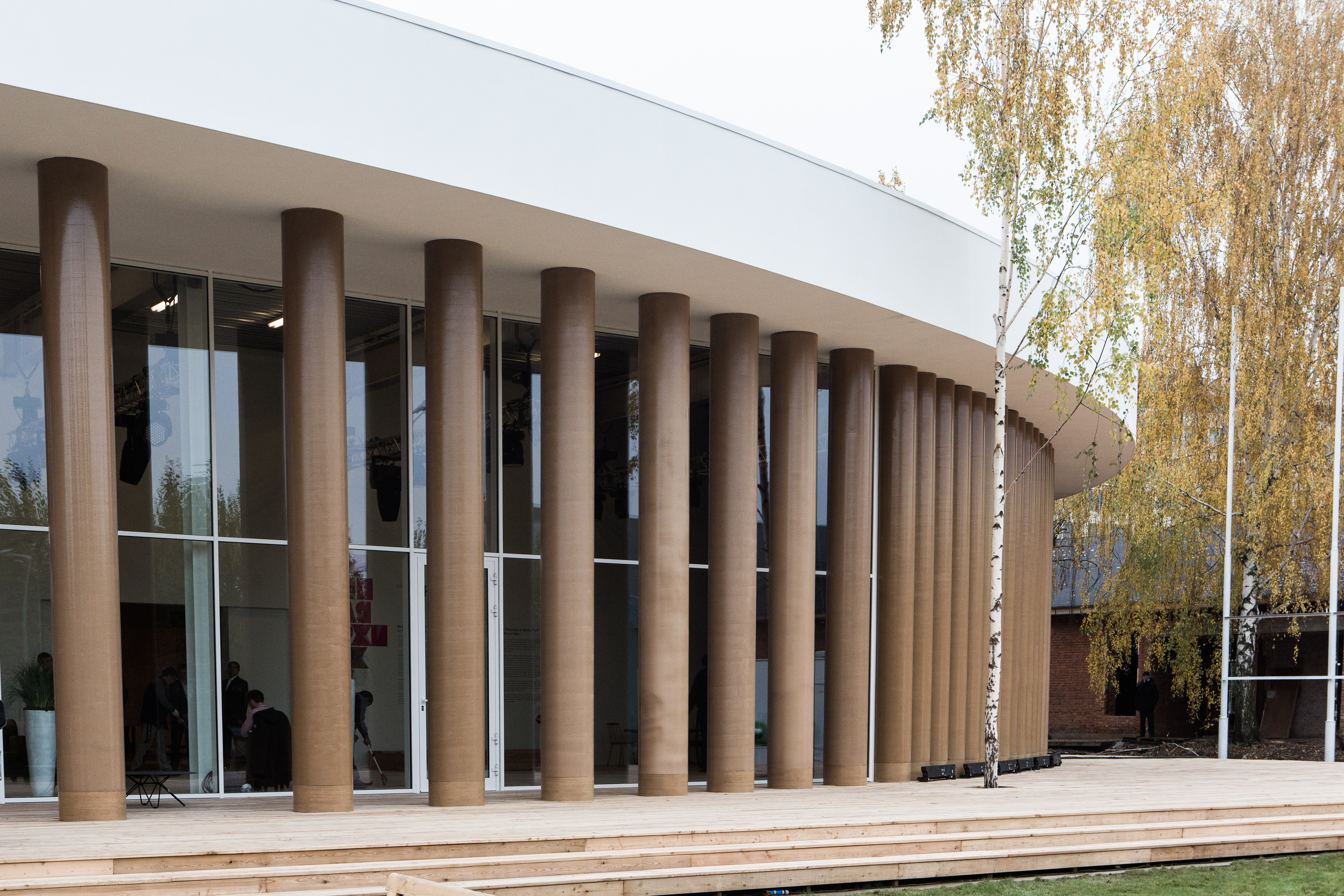 The 8,000-square-foot pavilion, located near the park's Pionersky Pond, is comprised of an oval exterior built from large paper tubes acting as columns around the interior space. It's an interesting architectural choice given the harsh conditions of Muscovite winters, but Ban has shown in the past that the aesthetics of his designs do not neglect functionality. In fact, many of the Japanese artist's projects have involved recyclable tubing as a building material, a technique he proved could effectively house disaster victims in his home country of Japan.
Commenting on his desire to work in Russia, Ban states on the Garage Center's website that he was attracted to the country's culture and art scenes, as well as its proximity to neighboring Japan. ""Although Russia and Japan are neighbors, we have very different cultures. Garage is well-known in the international art community for its progressive projects. The construction of the temporary pavilion is both efficient to construct and affordable by using local materials produced in St. Petersburg."
The pavilion's debut exhibit also opened this weekend, titled "Temporary Structures in Gorky Park: From Melnikov to Ban." Organized by the Garage Center, the exhibition will showcase a number of rare, never-before-seen archival drawings of Gorky Park fixtures since 1923. Including sketches from the iconic Russian avante-garde period as well as the contemporary projects of Russian architects today, the survey stands as a rich overview of the country's changing identity within art.
The park, which was originally planned by Soviet constructivist architect Konstantin Melnikov, was christened as the home base of Dasha Zhukova's Garage earlier this year. The non-profit art group states on its website that it aims "to bring important international modern and contemporary art to Moscow, to raise the profile of Russian contemporary culture internationally and encourage a new generation of Russian artists."
Scroll down for more images of Ban's cardboard creation below. Let us know what you think of the Garage Center's newest Gorky Park addition in the comments section.
PHOTO GALLERY
Shigeru Ban Pavilion At Gorky Park
BEFORE YOU GO